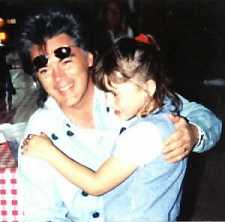 We arrived at 11 a.m. with our friends whom are new Fan Club Members, the Vaughn's. We were in the middle of the line waiting to get inside that non air-conditioned barn. Saw Judy Trickett, Darlene R., and her family, met them. Was standing in front of the Blakes from Newburgh, Indiana, the parents of the little boys, one was on stage with Marty at '99's party. Those boys are aren't little any more, how they have grown.
Our friends the Vaughn's little grand daughter, Mary Elizabeth Vaughn celebrated her 7th birthday the 13th, and this was her first time to meet Marty and the band. She was so excited and happy.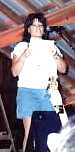 When it was time to enter the barn, spoke to Jodee, told her I was Evelyn from KY and introduced her to the new members that came. She gave us a friendly hello, glad to meet you, then Maria and the other lady gave us our t-shirts.
We went on to find a table, second one from the floor. We sit with Darlene and her family. Judy sat behind me at the 3rd table. I reminded Joey to let Jodee know about little Mary's birthday, and she remembered to make a point to mention it. SherryM., Mary R. came walking by us and spoke. Then Jennifer Robinson sat by Judy behind us and spoke to her. She told us a joke.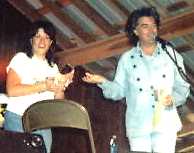 I never heard the bell ring to eat, but Joey did, and told us, so here we go to get the meal. It all looked good, I had to be careful, of course, so got what I could eat. One of the cooks told me I could get whatever I wanted. That was nice of her.
Went back to the table with the meal, began eating, then I look up, here comes Mr. Stuart in casual, in his blue jeans, and long sleeve blue shirt, and those sunglasses. No guards nor anyone. He mingled with lots of fans, so I decided it was my turn. I got up, and headed to where he was, he started to walk off. I said, "Marty Stuart, don't walk away, I have something for you." He turned around, and said, "Hi Evelyn." (Without looking at my name badge.) So I replied, "Hi Marty." And then handed him the envelope with some letters in it from 2 fans who couldn't attend, a little gift from me in it as well. Then, he replied, "Thanks for all the cards, e-cards, and messages, especially when Gary passed away. I appreciate it so much. I appreciate you being in the Fan Club."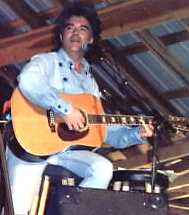 I kind of hugged him and patted him on the back and said, "Ok, you're welcome." Our little friend Mary V. went over to a table where Marty was sitting, and her grandmother took a picture of her sitting in his lap. That made her day! Then I went back to finish my meal.
I saw everyone getting ready to go sit on the floor in front of the stage, so I insisted on our friends to go on, since they headed there before me, then I went after that. We sat almost the same place as I did last year '99. Only on the 2nd row, behind Mary R. I was sitting by Ellie, and Margie/Ma. Cindy, was in the middle of the row.
When Jodee came on, she made announcements, including about 2 fan club members that had recently passed on, and then spoke of Gary. While she did the auction, our little friend Mary V. was really anxious to have Marty help her blow out her 7th birthday candle, so some guy sitting next to Cindy got a light for it, and they went out back with it. Marty helped light the candle, and then helped her blow it out. She was excited. She met Steve, while she was out there too.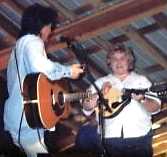 After the auction, (of course things went to high for my budget), Jodee introduced Marty. Marty came on, sung some new songs, then he spoke of Gary. He told the audience to yell up what we wanted to hear him sing. So some of us did. He spoke highly of his FAN CLUB. What we did for Gary's family!
Then introduced the Rock'N'Roll Cowboys. There were 2 guests, one was a songwriter, the other Leaman Flatt. Also, Brad Davis' daughter Briley came on and played a little drum set. She was adorable. There was a talent show. Jennifer Robinson was called on stage and played "HOBO'S PRAYER" on her mandolin with Marty. Jeremy, (forgot his last name) was introduced to come up with Marty, and he played the heck out of that fiddle, "THE SOUTH'S GONNA DO IT AGAIN." Both were super at the talent show.


After Marty's performance, Jodee came back and told everyone where Marty would be signing autographs, and taking pictures, outside by the train caboose, since it was so extremely hot inside. Wow, we were in the middle of the line waiting for Marty. It was not much cooler outside, though.
Our friends had their talk with Marty first, and when it was time for little Mary to meet him again, she went up to him, he signed her t-shirt, the fan club gave us, and a Marty cap, her grandfather bought her. Then Marty bent over and gave her a big hug, her called her "pumpkin" and his new little "Angel." Get this, she had just met him inside, and then talked to him when he blew out her candle, when she walked up to him in the line, he said, "Hi Mary." Wow, he remembered her name in a short time.
Then it was my turn, I held up the line a few minutes, had to get my stuff together, cause I was taking photos too. I walked up to Marty, and he said, "Hi Evelyn, what you got today?" (Still he didn't look at my name badge.) I told him, "An old record album cover from a new member in Japan, and old photo that the member in Japan printed off the computer for me, some photos from last year, and the year before parties, and a photo album of the Fan Club Parties I have attended from '96-'99. He grabbed the printed photo and replied, "That's old." Then he grabbed the record album cover, and replied, "That's ugly." I handed him the photo album, and without even looking at my name badge, he writes, "To Evelyn Totty Love Marty Stuart". I was shocked, he didn't even read the name badge still. He knew my last name without even asking.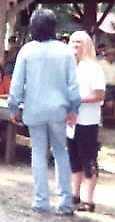 Then I replied, "Oh, picture, picture, picture, we gotta have our picture made." Marty grabs me around my waist, (I was standing on his left side), and plants a big kiss right on my right cheek. I believe if I had turned around and faced him it would have been planted on my lips. I hugged him too, and that was it, I was in a daze the rest of the day.
After I finished, it was Joey's turn. He had him sign a photo for 2 guys at a local radio station out of Murray, KY and The Pilgrim CD cover for another person. Joey talked to him for a few minutes, and Marty called me back up to him, and thanked us for coming. Wasn't that sweet?
We walked away, and went looking for Brad Davis. We found him inside with some other Fan Club Members and his family. I asked Brad to sign my Christmas CD of the band's, since he hadn't done it yet, and then we talked to him for a while. I met his family. They are adorable. We talked to Gregg a few minutes and Steve also. Little Mary's other favorite was Steve, too.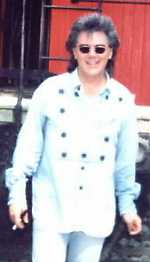 Then we walked around. Little Mary and her grandmother came with us, and we looked at Marty's car. Then here comes Marty's mom, wearing a t-shirt, with "Marty's Mom" on the front and a baby picture of Marty on the back. She is a really sweet person. We looked at that cadillac lots.
I saw Cindy and some others out by it also, Leslie Anne Rawlings is one I met out there also. Then it was time for us to leave. We left to come home at 4:30. As we were leaving, I noticed Marty was still signing autographs, of course, and had sit down at the picnic table, with that big picture from Washington DC when he went out for the lighting of the Christmas Tree. I really didn't want to leave but we had to.
Little Mary didn't want to neither. She asked Marty if she could stay with him and he replied, "Yes!"
This was one of the best parties for me. Fan Club Party 2000 at Smiley Hollow!
Review and photos by Evelyn Totty, Mayfield, KY