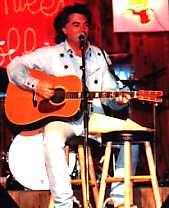 "We got a skunk in our yard. Man it stinks. He stinks so bad. I think he waits until about 3 in the morning and comes sprays and runs. Yesterday I did something I haven't done since I was a little kid. I willfully loaded a 22 rifle and I shot him dead. I called mama and said, 'Mama, I did something I can't believe I did.' It bothered me all night, but I got to tell you. If you ever think about quittin', don't ever, ever, ever give in, don't ever quit until your last dying breath because as that little skunk laid there going like this, the last thing he did was went ............ And I went, 'that's pretty good.' "

Marty then brought out the Rock & Roll Cowboys. Brad came out carrying Steve in his arms. Marty quipped, "They were just married last night and Steve can't walk good today." The crowd roared. I can't believe that Mario didn't get a picture of that. It was hilarious.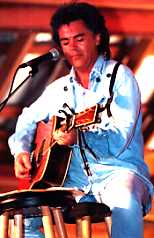 "Any of ya'll that know us know one's missing up here today. He ain't gone nowhere except to heaven. He just beat us to it. Whenever we play from now on, you'll know that there's a place in our hearts and a place on our stage. As far as I'm concerned Gary Hogue is still sitting there. And I want to tell you all something and I mean this from the bottom of my heart. I don't if anybody else's fan club does this kind of stuff, but I'm still the President of the Country Music Hall of Fame. The only fan club that is on the record for giving money on behalf of their artist and country music is OUR fan club. Every nickel is appreciated."
"And I want to tell you something. When Gary died.........every now and then you get reminded of things like why you do this, how come you still do what you do.....when Gary died, Jodee came and told me......... this is only like two or three days after Gary passed away, that our fans had sent in something like $1,500 or $2,000 at that time to Nikki. And I tell you what, that touched my heart. I know that's hard earned dollars for ya'll. That's hard-earned money to put in an envelope and send to somebody but I want you to know, that from the bottom of our heart, we appreciate and I LOVE YOU FOR IT. Thank you. Give yourselves a hand."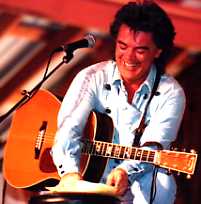 "Hey, we got Briley Davis over here on the drums. That would be a grown-up version of Brad Davis' little girl. Says on her drums, she's a 'princess.' Well, we've played one song together....we played ONE song together since New Year's Eve and that was at the Billy Graham Crusade a couple weeks ago. So, we're rusty. But we don't care. Cause we're cute. We'll play you two or three songs so we'll take a few requests. Whatcha wanna hear?"
Everyone yells out different song titles. Marty said, "Hey Baby? You remember that? I don't." Then to get completely off the subject, he says, "About once a month I go to try my leather pants on to make sure I can still get in 'em. I've lost 13 pounds, I'm happy to tell you. I can still get in them britches." While the band played "Hey Baby," Briley Davis banged on her drums.

Then someone yelled out "Don't Be Cruel." Again before playing, Marty gets off course saying, "You know what? I gotta talk this out with you. When Gary passed away, the thing is, I started wacking on myself, 'if you just kept going on the road and stay on the bus maybe this wouldn't have happened.' But there's another way to look at that. If Gary hadn't been home the last five or six months, he wouldn't have gotten to spend time with Elliot and Nikki and Brad wouldn't have got to spend time with her (pointing to Briley) and these boys got to spend time with their familes. And I got to watch me grow up some more and I've enjoyed that. And you can't fault that. When God tells you to do something, you gots to do it. So you go do it. He also said 'Fire MCA Records' so I did that. Oh there was a lot of that went on. I promise you will never get hollered at again. All right?"
Again, song titles were thrown out. Marty pulled out "Till I Found you." He says, "Bradley, I don't remember it, do you?" They start the song and Marty says, "Ya'll be forgiving and loving now." Well, it sounded great.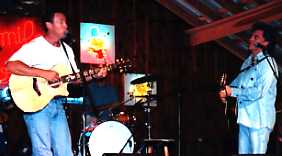 "There's a guy I wrote a couple of song with. I never met him in my life until a couple of months ago. And he's just one of those fellows. I appreciated his heart and vision and then I met him. I don't remember the songs that we wrote, but he does. Would you all make him feel welcome? Say 'hi' to Don Poythress. Anybody out there been writing any songs? We're getting a new record deal. Send 'em in."
Marty introduced Maria-Elena ("she's the one who takes care me") and Mary Gordon ("she pays my bills.") He also pointed out a few other people and his mama (who always comes to these parties). "And Connie's in South Dakota, probably drunker than a dog. All she does since I've been home is drink, drink, drink. Yeah, and now you know why."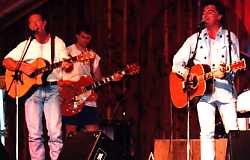 Don was poised and ready to perform a couple of songs that he and Marty had written. Don said, "Well, I have to say what Marty just said. Actually we just met a couple months ago. And I've just enjoyed getting to know him. As you can imagine, I'm a little bit nervous cause I'm a fan of Marty's too. And this is the first time we've ever played together. (Marty: "This is the way to do it. These are my friends"). So let's hope we can remember the words. (Marty: "I don't.")
Don performed "Sometimes Miracles Happen (To Those Who Don't Even Believe)." The Cowboys backed him up and Marty sang background vocals. This particular song is first-rate! It also has a great message.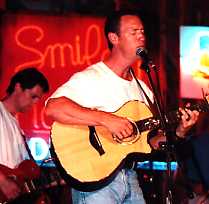 Don says, "that was fun." As they're tuning their guitars, Marty says, "Are you all too cold?" Everyone laughs. "Freezing to death," he adds.
Don continues, "I really love this song. We were sitting around the table and Connie came in and so we just started singing. and I thought, 'Man this is it. Sitting around a table singing with Marty and Connie' and, man, that was fun." Marty quipps, "She wasn't drinking that day, was she?" Don said, "Diet Coke." Marty says, "I want you to be quiet and let him sing." The song title is "I Carry Your Love With Me" or "You Will Be There." I'm not really sure and didn't think to ask Marty.
Marty then asked Jennifer Robinson to come up on stage. Our very own talented Martypal had played saxophone on stage with Marty at last year's party. This year, she brought her mandolin and was going to play "Hobo's Prayer" with Marty. Talk about nerve!!!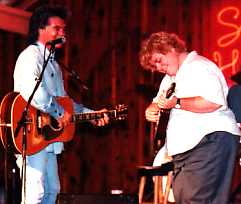 Marty said, "Got your mandolin? We're gonna have some talent now. What we gonna pick, Jennifer?" She said "Hobo's Prayer." Marty asks, "In what key?" Jenn is tuning her mandolin. Finally Marty said, "Who tuned your mandolin?" She must have said that she did. Marty goes, "that's what I thought. Want me to tune it for you?" So, while Marty tuned Jenn's mandolin, she went up to the microphone and told this joke: "What does a tornado and a divorce have in common in the State of Tennessee?" Marty yells out, "What, Jennifer?" "Either way somebody's fixin' to lose a trailer." (She's a comedian too???). While Marty's tuning away, he's asking Jenn where she lives. She used to live in Murfreesboro but now lives in Waverly, TN. Marty says, "How far is that? Two hours, that ain't that far." Marty asked, "Can we go to your house?" Jenn said they were on five acres. Marty said, "That'll handle it. You got a pond? Skinny-dipping."
So, Marty finally got it tuned "close enough." Marty said he would sing the song while she played. Jenn hasn't been playing the mandolin for very long, but she held her own up there with Marty. As usual, Marty had to start acting silly and trying to crack Jennifer up. Here's a soundclip of Jenn's picking.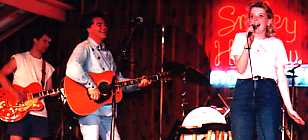 Next up was Melanie Renfro who had planned to sing a song for Marty and Connie--but Connie wasn't there, so she asked if she could sing harmony with Marty. Then Marty says, "I want you to sing a Connie Smith song." Melanie was more than agreeable. She selected "I Never Once Stopped Loving You." Marty's like "I don't know it either." So Marty starts singing the lyrics and says, "Is that the one?" Now, Connie Smith is the GREATEST female country music singer of ALL time. Who would have the nerve to go up on stage and try to sing a song in front of Connie's husband? Could Melanie pull it off? Even with Marty trying to make her laugh? Listen for yourself.
Melanie did such a great job, that Marty asked her to sing "Once A Day." When I talked with Melanie later, she said she'd been waiting for years to sing with Marty. I guess if I could sing that well, I wouldn't hesitate to show off my talents either.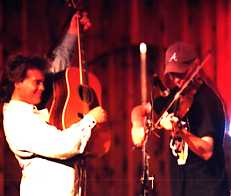 Next up was Jeremy Edge. Those of us in the fan club have watched Jeremy grow up. He's played his fiddle at several of Marty's fan club parties. Now he's a young man.......playing fiddle better than ever. He and Marty jammed to "The South's Gonna Do It Again." You know, Jeremy doesn't sing bad either. Listen and get ready to jam.
Marty said, "We got time for one more then we got to..........." Someone had handed Brad a note and Brad handed it to Marty and it said, "Please play 'Long Black Veil'." Marty said, "I don't wanna kill nobody today." He finally relented with a verse and chorus of the song.
"There's a preacher in Murfreesboro. I love this man 'cause every time I look at him, I look at Lester Flatt. Lester and Leamon Flatt are cousins. Every time I see that head comin' with a hat on, I think of Lester. Lester used to do a tune......get Leamon to do this for you."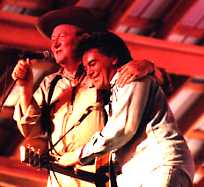 Leamon comes on stage and says, "I love Marty and Hilda, John and Jennifer, all the family. This is a great thrill to see how many people also love him. I gotta tell you one quick story. I don't have to tell you anything you don't already observe, but women have been lovin' that guy since he was 13 years old 'cause I witnessed it. I went with them over in North Carolina last time at that great bluegrass festival. Met a young lady over there and her cousin. This isn't a preacher's tale, this is a true story, as you know. And they'd come all the way from Dallas, Texas to see this great act. I fell in love with both of them. She was madly in love with Marty. This is the absolute fact. I caused her to cry, but I did her a favor, Marty. I told her that Marty had lady friends everywhere that loved him a lot (and he still does have and appreciates it). And we remained friends and I'll help you any way I can because she was already engaged to a guy back in Dallas. Really. And she says, 'You know, we're not in a church, but would it be appropriate for you to come to Dallas and have our wedding sometime.' A couple of years later I got a plane ticket from that young lady and flew out to Dallas and had her wedding, but on her wedding day, she told me that Marty (you were on the road with Big Johnny at that time. The Man in Black, the original Man in Black, right?) He was on the road in New York. I knew where they were. And she told me that Marty had told her that he would be there for that wedding. He didn't want to make her bad." Marty said, "I tried."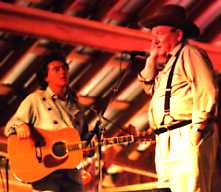 Always the joker, Marty says, "Leamon, ya'll got a real prayin' church in Murfreesboro, don't you? Well, when you do, pray for Connie. She's been drinking bad." Leamon says, "God Bless Connie." Leamon also mentioned Melanie's great rendition of Connie's songs.
Marty says, "Lester had a tune that was absolutely his masterpiece. And there's only one man I know that can even remember the words and do it justice." Leamon said, "It's touched a lot of people. I can't do it like Lester Raymond Flatt. It's called 'Father's Table Grace'. I've seen big men cry, Marty, because this is a sermon. Some of you young people have never heard this, but this is an honor. One of Marty Stuart's fathers, Lester Flatt." Marty accompanied him on guitar as he did the recitation.
Marty and the Cowboys closed with "Hillbilly Rock." Only then did we realize (again) just how warm it was in the barn. Luckily, this year, they moved Marty outside by the caboose (in the shade, with a breeze) where he met with fan club members. The merchandise table was close by as well, making it easy for the fans to pick up something to have Marty sign.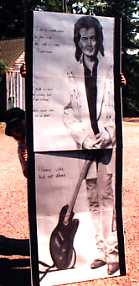 Marty enjoyed signing the autographs and posing for pictures again. He handed out hugs and kisses and signed and signed and signed--never looking weary or tired! He gave each fan club member time they needed. Nobody was rushed through.

Our talented Beverly Kerr brought several of her drawings again. She gave Marty the one she did of him and the Rock & Roll Cowboys. She'd also recently completed a bigger-than-life-size drawing of Marty. Everyone and I mean EVERYONE was impressed with her work.

It was wonderful seeing old friends and meeting new ones. This year's crowd was the smallest in years, but that just made Marty all the more comfortable to walk amongst us. Jodee did a superb job in making the arrangements for the party and hosting the auction. Now, if next year, they could find some way to air condition that barn!

Review by Sherry Mattioli
Photos by Mario Mattioli