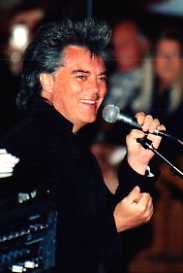 Marty's Fan Club Party was held as a pre-show event to his Late Night Jam at the Ryman Auditorium. The party was held up in the balcony where Marty had donated several items for a silent auction. Fans were able to renew old acquaintances while waiting for the doors to open.
Fan Club President, Jodee Stocki, welcomed the crowd and announced the winning bids for the auction. A black t-shirt that Marty had performed in many times went for $100; a framed Double Trouble Tour poster signed by both Marty and Travis also went for $100; a framed photo of Marty when he was three years old beside a picture of a much-older Marty in the same pose, went for $175; the MCA promo book for Honky Tonkin's What I Do Best went for $100; a Roy Rogers t-shirt went for $30; and a Fender Telecaster guitar went for $3,000.
Jodee then announced that there were 250 people at the party. 200 of us have been fan club members for more than 5 years. 100 of us have been members for 10 years. 30 have been members for more than 10 years. The fan club is now in its 15th year and Jodee recognized those who have been members for 14 and 15 years. Jodee then introduced some new fan club members. She wanted to know which fan club member had driven the farthest to the party. T-shirts were given to fan club members from Seattle, WA and West Roxbury and Oakham, MA.
Then Jodee wanted to know who was the youngest member present. Two six-year olds came to claim their gifts. The oldest member present was 80. Melanie Renfro got a t-shirt for attending all 15 fan club parties. Glenda Rummell was honored as the member attending the most shows (364). A t-shirt and CD were given to Cindy Allred's husband and daughter (who were not present) for allowing Cindy to travel to all the shows she sees. Jodee said "They are saints for letting you go to the shows."
Jodee then wanted to recognize a fan club member living in Canada who calls her three times a week. Jodee said that's why she couldn't afford to come to the fan club party. Another fan club member was honored for sending Marty the most cards and letters. And she announced that someone had ordered a ticket for the fan club party and their membership had been expired for two years.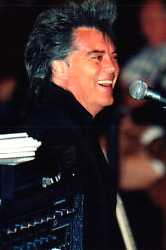 About that time, we saw Marty walking toward the group and the members burst out in applause. "Last year we did it at the Hall of Fame. We're working our way across town. But this is my favorite place to play. This is my home stage. This is the first place I ever played in Nashville. They were gonna tear the Ryman down and we got on our campaign to save the Ryman and a bunch of us argued and fought and it happened. So thanks to those people.....no actually, thanks to Gaylord and about $20 million bucks. We can still have shows here and now this is the home of our Fan Club Party for a good while. This is the first of many concerts. We've already secured the building for next year and we're gonna have a Late Night Jam for as long as ya'll come. All right? It's gonna be funny to see if us old people can stay up past 12." Everybody laughs hysterically, especially Marty.
Someone yelled out they were 44. Marty says, "You're 44? You old rascal you. You look great. I don't look a day over 43. I don't. I feel like I'm 20 so everything's gonna be all right. Hey this is a cool show. Of course the first person I called was Travis. Waylon told me one time, he said, 'The last thing you ever wanna hear is Willie Nelson and you're going 'hey man, I've got an idea.' But me and Travis have done that a lot of times. He'll call and say 'Hey Brother.' When I hear him say 'Hey Brother,' I know something is coming. When I call him, I say 'Hey Bubba. You know what I think we oughta do?' So we planned it up and we didn't have nobody to tell us we couldn't do it, so this is the show we came up with."
"And, Travis, Montgomery Gentry you know. There's a guy named Unknown Hinson from North Carolina that I saw at the Exit/In and he's been in jail for 30 years. That's the truth. And I from prison reform myself. So he's coming out and sing tonight for the first time in a long time. Connie's here. Pam Tillis and a guy named Joe Nichols. You all heard Joe Nichols' record? Joe's gonna come out and sing us his hit. And the Tennessee Mafia Jug Band. We're doing a tribute to John Gotti." Again Marty and the audience go hysterical.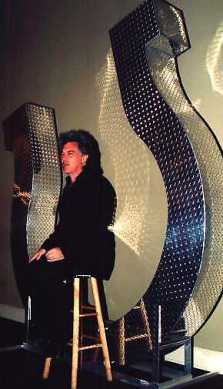 "I don't know who else is gonna show up. I fear after that awards show lets out, they go go by Tootsies, they're gonna wanna come over here and sing. We're gonna let 'em sing. So we're booked until about 2 or 3 in the morning. What do ya'll gotta do? Got any people who gotta get up and go to a fan club breakfast or anything? Who ya got?" Several people yelled out "Travis'." Marty asked, "What time is Tritt's party?" They replied "nine o'clock." Marty quips,"Nine? He ain't gonna be able to make it. If he comes in in them sunglasses, you know. Naw, he'll make it. He'll make it. Steve Wariner? What time's Steve's party? Nine? Carl (Thumann), what time is Lorrie's? She gonna have it at her Hot Wings place? Where? The Palace? Well, the bottom line is the later you all stay up, the worse you'll feel, but I guarantee you this is gonna be better than anything you're gonna go to tomorrow."
Marty then talked about having a fan club member named after him. Little Marty (who's not so little anymore) was present. "I heard you ask if anybody had ever been named after me. Marty was. There's a star named after me......... a milkshake, a trolley, a dirt road." Everyone laughs, "It's true. A building, a....what else. I know there's lot of stuff. I wrote it all down and got embarrassed."
"I was named after Marty Robbins. Did you know that? There was a billboard that the Country Music Hall of Fame did a few years ago. It said 'Marty to Marty' and had a picture of me and Marty Robbins. And there was an old guy named Smitty that used to cut Marty Robbins' hair. I run into him at the Waffle House. He's a big old grouch. He went over there every morning to eat breakfast. I ran into Smitty one morning. He said, 'I seen that billboard.' I said, 'You did.' He said, 'You oughta be ashamed. You can't hold a candle to Marty Robbins.' I said, 'I know that but I'm on the billboard.' That's what counts."
"If you haven't been to the Hall of Fame, go to the Hall of Fame. Melanie Renfro will show you around. Melanie has a new record out. That's cool. You all come by our house. Don't pick the flowers, please. It took me a month's time to put them out. I put 'em out myself. WRONG! I'd probably plant them upside down."
"I wanna ask your honest opinion. Fans are always honest. Are you glad.......this is kinda not like Smiley Hollow." Marty laughs. "But, it's a different change. But everything is downtown these days. Are you getting more used to Fan Fair downtown? Those that like it raise their hand." A few hands went up. "Those that don't like it, raise your hand." More hand went up. "Oh I can see how you'd wanna go to that hot, sweaty fairgrounds. Yeah, I liked the fairgrounds too. You probably didn't have any windows in your car when you came back is the only thing. I like it downtown. I really do. I like the fact that you all can park your car and hang out for a week and never be in your car. It's all down here. Except for Steve Wariner's party, I'm sure."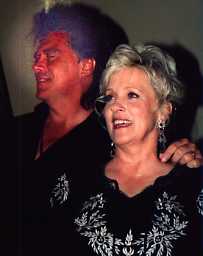 "Do you like the idea of having a concert?" Fan club members applaud. "Do you? You all seen me and heard my jokes for 12, 15, 10 years years some of you. But this is different." Someone always has to yell out how much they love Marty. "Thank you. Thank you. I keep lovin' you back. I love it Thank you for standing by me. We've got new songs we're gonna play tonight, two or three new songs. I'm gonna host the Grand Ole Opry TV portion Saturday night. We'll play a couple more there. New band, new record deal." Someone asked "When are you going into the studio?" Marty replies, "Probably about August. There's one song called 'I Surrender.' I'm gonna sing it for you tonight." Marty jokingly adds, "It makes me feel sexy. My breasteses." Everybody roars. "Saw Dolly Parton out in front of this building. Look at them. What's she got?"
"But I'm looking forward to the show. I've seen pictures. There's a guy that came through here in the 1940's from Life Magazine. His name was Ed Clark. Great photographer. He just hung out at the Opry all day for one Saturday in the 40's. People used to come to this show standing up in a pick up truck, with cattle guards around it, standing up, and he shot pictures of people coming in, car tags. Used to be a thing that women would nurse their babies during the show. I never got to see that." Marty and the audience cracks up. "I used to just die to see it but......Dolly Parton, if she'd been my mama, I'd been a bottle baby."
"Okay, follow Marty to the horseshoe. You all sit down until somebody hollers at you. Coz you got a long way to go tonight. You all want me to stop the show at 2:30 or 3. You know I'll do it. We're gonna stop just in time for Carl to go home and clean up and go to Lorrie Morgan's party. Glad you're here. Enjoy, holler and scream. Show what you've got. We'll have a ball, all right. Don't leave before the show is over because there's so many good things planned for tonight."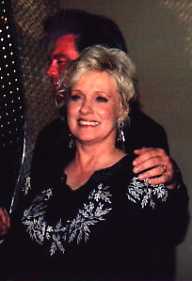 Paul Blake asked Marty what the name of the new band was. "We don't have a name yet. But, we're really cool guys. Let me say one thing. Steve and Gregg and Brad, Jodee where are you? Are they at home yet? Are Steve, Brad and Gregg, those guys home. Did they get home today? They've been touring with Billy Bob. Was it a successful tour? They were out with Elvis Costello. I love those guys. They're like my brothers. We raised each other for a long time. We'll always be friends. We'll always probably play music together some where down the line, but our schedules just got sideways coz I didn't tour the first half of the year. I was producing a Johnny Cash record. A lot of fans love those guys, but they don't love them half as much as I do. We're brothers, we'll always be that way. Wherever they're playing or what band their in, please go see them and love on them. Give them some of that Rock and Roll Cowboy love. They deserve it. They're a good band. They're good guys. In the meantime, we're over here trying to make a living. So here we go again. I've lost 12 pounds. I can get in my rhinestones, let's go."
A huge aluminum horseshoe was standing up against the back wall of the balcony. Fan club members lined up while Marty took a seat on a stool in front of the horseshoe. Even though the flyer for the party said there would be no one-on-one meet and greet, there was Marty, signing autographs and posing for pictures. The line moved fairly fast. At one point, Connie came out in her long gown and she and Marty hugged and kissed on each other for several minutes, posing for the cameras, Those who were in line at that time, got their pictures taken with Marty AND Connie. Soon after, Marty and Connie were whisked away to begin preparations for the show.
---