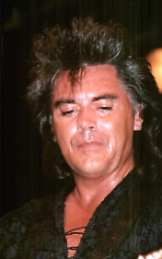 Marty and the Rock and Roll Cowboys headlined Billy Block's Western Beat Roots Revival show at the Exit/In. This live show is held every Tuesday evening and features a lot of extraordinary talented musicians and singers. The music varies from pop/rock, traditional country, alternative country, blues, bluegrass -- each performer has their own style and type of music but it all blends well.

Mario and I arrived about 6 p.m. and there was already a line of people waiting at the door. Met up with Leslie Anne Rawlings, who had informed me about the show, and Martypals Bobbi Johnson, Judy Trickett and Summer Decker. They opened the doors about 6:30 and inside we found Margie Sullivan and Cindy Allred. It was easy to find a table at that early hour. They had moved the tables up closer to the stage. They usually leave room for a dance floor. So the first row of tables was about 6 feet from the stage.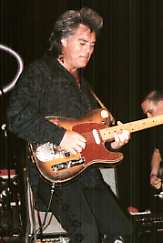 The show airs live and then is archived on Liveonthenet.com and runs Sunday evenings on a local radio station in Nashville. We sat through several opening acts. There's always the usual set-up time between acts and, by the time Marty and the Rock and Roll Cowboys came onstage, it was about 10:20 p.m. The room was hot and standing room-only by that time!
In introducing Marty, Billy Block said, "A gentlemen who has been a savior to country music. He's one of country music's most proficient musicians and he's one of its most ardent flag carriers for the history and tradition of country music. He's a country music historian and a musicologist. And has recently finished and released on MCA Records a career album called The Pilgrim. It's a honor to have with us tonight an icon in American music and a true country music star. Ladies and gentlemen it's a pleasure to have him here. I'd like a moment of silence and I'd like us all to pray for country radio and country music. And one day, we might see country back and done the way Marty Stuart and the Rock and Roll Cowboys perform it."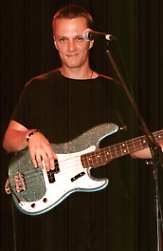 "Marty Stuart Visits The Moon" is playing and Mike says, "Ladies and gentlemen.......Marty Stuart." The Rock and Roll Cowboys wore black T's and Marty came out in his black shirt and black pants -- no jackets for them on this warm night. They launched into "Rocket Ship" and the crowd really got into the song.
This was a night of very little talking for Marty. They seemed to go from song to song. They performed, "High On A Mountain Top," "Doin' My Time (where Marty went over and jammed with Gary. Gary was smilin' through it all), "The Whiskey Ain't Workin'," "Blue Train" (where Marty again told the story of hearing the music of Johnny Cash at an early age and "it about ripped my head off." Playing the introduction to the song, he then talked about the Blue Train being a mystery train. "you ain't gotta have no money to ride this train. All you gotta to have to ride this train is a bad case of them Nashville Blues.")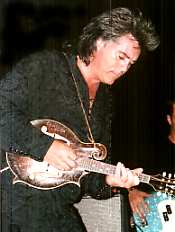 "Tempted" was next. Then "Dark as a Dungeon." Why do people insist on carrying on conversations during this song? It's such a haunting rendition! All eyes and ears should have been on Marty--but you've always got people in these type of clubs who come to chat and not listen to the music.
Marty introduced the band and said they would like to play a few songs from the new album. Marty says, "I know it's out 'cause I saw it on the side of Tower Records." "Sometimes The Pleasure's Worth The Pain" was first. Marty said they were turning Ellston Place into a honky tonk and sang "Red, Red Wine and Cheatin' Songs." They kept the honky tonk theme going with "Swingin' Doors." Marty said that "Hobo's Prayer" was his favorite song off The Pilgrim. Marty and Brad did "A Soldier's Joy" and they closed out the set with "Hillbilly Rock." For the encore, they performed "The Pilgrim." Marty did not wear a long coat this time around. I know the guys were burnin' up!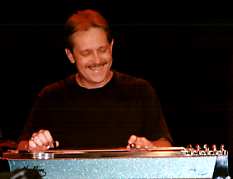 We always think the show is just too short, but getting to see Marty and the band again was great. They looked and sounded wonderful. The stage at the Exit/In is quite small, but Marty moved as much as he could. He did the usual hand-shaking as he went off stage.

A bonus for Mario and me was that our favorite country music group, The Derailers, was in town to film the video for their first single off their upcoming album and had been asked to come by and sing a few songs. It really topped off an already incredible evening.

Enjoy these other photos from the evening.

Review by Sherry Mattioli
Photos by Mario Mattioli