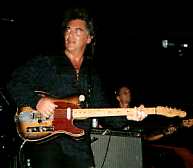 I left Murfreesboro at 1:30 p.m. and went to Madison,TN and picked up a couple of friends who also wanted to go hear Marty. This was their first time to hear Marty in person. They had been force-fed Marty by my tapes when they go any where with me. We then went to meet Bobbi Johnson and Leslie Anne Rawlings. On the way there, my sunglasses broke. While I was waiting, I moved my arm and my watch band broke. By that time I was thinking "What else can go wrong." Then Leslie Anne and Bobbi arrived. We then went to TGI Fridays had supper and then went and got in line at the Exit/In. We soon were joined by Sherry and Mario and some more Martypals but I don't remember all their names.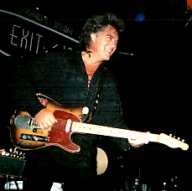 Well we got in and we had good seats. Finally Marty came on for his first song he did "Rocket Ship,"then he did "High on a Mountain Top." After this, the list of songs may not be in the exact order he them. I didn't have any paper to write them down on so the order may not be right. He did "Whiskey Ain't Workin' Anymore," "Blue Train," "Tempted" -- that was the song one of my friends was hoping that he would do."Dark as a Dungeon," "Sometimes the Pleasure's Worth the Pain," "Hobo's Prayer," "Swinging Doors," "Red, Red Wine and Cheatin' Songs."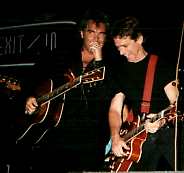 They also did a instrumental. I didn't really know what that was but he didn't play his new guitar on it. In fact he didn't use his new guitar last night at all. I was hoping that he would and that I could take a picture of him with it. Then he did "Hillbilly Rock" which is one of my favorite Marty songs. Also my other friend that was seeing Marty for the first time was hoping that he would do that one. Well Marty left the stage. They called him back and he did "The Pilgrim." I had made pictures all night right from edge of the stage. That's how close you could get. Now here is the best part for me. After Marty did "The Pilgrim" and was fixing to leave the stage again, I reached my hand up and he shook my hand. For me, that was the BEST part.
Review and photos by Judy Trickett, Murfreesboro, TN