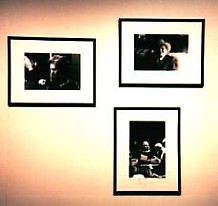 An exhibit presenting a selection of photographs taken by famed Life Magazine photographer Ed Clark and country music's Marty Stuart was featured at The Arts Company in Nashville, Tennessee the entire month of September 1998.

On September 10, a reception was held for Ed and Marty. Several of their photos as well as photos taken by students from Nashville Tech were auctioned with the proceeds benefitting the Nashville Tech Foundation student scholarship program.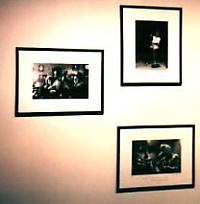 The collection of photographs not only spanned the long garage wall but also spanned over 50 years of photography between a professional photographer whose pictures have been immortalized in print and a amateur photographer whose hobby has spanned 25 years in itself. Outside of many of Ed's photos being "dated" (some were from 1946), Marty's photographs measured up in composition, depth and quality.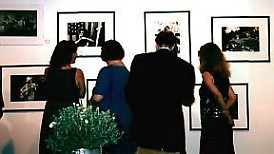 The crowd was made up mostly of Nashville Tech students who had come with cameras in hand. Mario had left his professional camera at home and I took our small zoom camera. These photos do not do the exhibit (or Marty and Ed) justice and the photo lab developing the film ruined some of the negatives. But I hope you get a real feel for the evening.
In support of Marty were his gorgeous wife Connie, his wonderful mom Hilda, his super sister Jennifer, manager Bonnie Garner, and assistant Maria-Elena Orbea.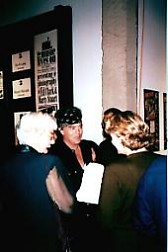 Marty arrived and hobnobbed with the guests. He was very accessible, posing for pictures or signing autographs. Mario and I went over and said "hello." We had a short and wonderful conversation with Marty. I was waiting for Mike Copelin to say, "folks, we're running short on time, we need to keep the line moving," but Mike wasn't there and nobody was rushing the people. I think anyone who wanted to speak with Marty was able to talk with him.
Ed Clark, who also worked with The Tennessean and covered six presidential administrations, gave a short slide presentation with 30 of his photos. Each of his photographs tells a story and, although at the time nobody realized the history he was capturing, his photos are considered some of the best ever captured on film.
The auction started with Marty's photo of Bill Monroe and the chickens. Marty had "named" each of his photos and each of the photos was personally signed by the photographer. Marty talked about each photo as it was auctioned and I'll let him describe the photos: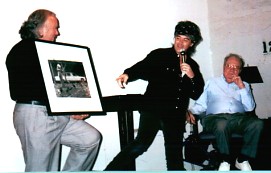 "That's Bill Monroe and that was taken on Mr. Monroe's farm in the fall of 1996. I think it's the last true photo session he ever did. And I thought, you know, Bill Monroe--he's been around since the 30's. The last thing in the world he wants to do is take a photo again. But he gracefully let me come out. The thing I noticed that afternoon is that everywhere we walked around his farm, the animals would follow him. He really had a relationship with all the animals and he could call them all by name. I wanted to pull his limousine in front of his log house and shoot the picture, but it wouldn't start and it had a bunch of hay in the back for the horses. So we threw out some chicken feed. Some rooster kept getting out of line and he said 'Don't you do that, I'm gonna shoot you.' This is called The Chicken Reel and Bill Monroe." This photo brought $800.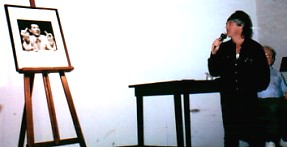 "Class, let's take a moment to reflect on the depth of this. Think about it. Christmas is coming. Well, this is the way I met Paris, France. I went rockin' with Jerry Lee after the show. He might do that before the show started and, trust me, when sunrise came, he couldn't do that anymore. I love this photograph. He's my favorite crazy uncle of Nesbit, MS. We were doing a tour across Europe with Johnny Cash and all of his band and Roy Orbison and Jerry Lee and I forget what he was preachin' about, but that's how the sermon ended right there." This photo is called Birds of a Feather, Rock Together, taken in 1981 and brought $550.
The next photo was a montage of pictures of Johnny Cash doing his hair in preparation to go on stage. The photo was called Rocket Fuel, Hair Spray, The Same Three Chords, and One More Town taken in 1982. Marty said all it took to transform Johnny from being a country boy named John R. Cash to the Man in Black was "hair spray and a black coat." The photo sold for $375.
Next, several of Ed Clark's photos were auctioned. Most were related to the Opry when it was at the Ryman, many included the great stars of the Opry from back then, and Nashville as it appeared in 1946. The bids on these photos ranged from $200 to $625.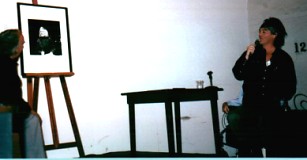 "This is a shot of Tammy Wynette. It was made during the George Jones Bradley Barns Sessions. Keith Richards came in, Travis Tritt, Vince Gill, Trisha Yearwood, myself. Everybody came in and gave it their best shot. And it all came to a close when she walked in. She won heads down. I call this Angel in Waiting. It was taken in 1994 during the terrible ice blizzard in Nashville. That was the warmest spot in town when she was singing." The photo brought $375.
The next two photos auctioned were Ed's historical photo of President Kennedy peering into Caroline's crib with Caroline's head peeking up which brought $500, and a photo of the Al Gore, Sr. family taken when the future vice president was just a lad which brought in $625.

The final photograph auctioned was the highly recognizable Graham Jackson who was the accordionist at FDR's funeral. This photo of a one single American represented an entire nation grieving at the loss of their leader. A tear is rolling down Mr. Jackson's cheek. When the bidding stalled at $700, Marty bid $1,000 for the photo.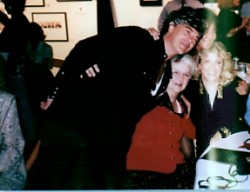 The reception then continued and Marty walked over to his family sitting at the table next to us. Marty had started off the evening by saying he felt like he'd won an award and I am sure putting his personal photographs up against the "master" Ed Clark was a challenge for Marty. The book of photographs that he hopes to one day publish will be filled with years and years of "moments" that he's captured with his heart on film. Thank you Marty and Ed for allowing us to see the world through your "eyes."

Article by Sherry Mattioli; Photos by Mario Mattioli