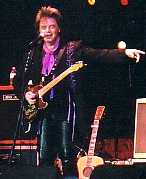 Hi all, my daughter Jamie (she just turned 15) and I went to the Somerset, KY show last night and it was a great night with a few surprises thrown in. For us, it was a 3-hour ride from Springfield, TN (near Nashville) but it was worth every minute.
First, what I thought was going to be an auditorium of 700 turned out to be a big hall with 2,000 seats (cushioned chairs lined up "convention" style), sold out, with one usher telling this was the biggest event they had ever had at this venue. At first I was disappoined with the seats--for being the third caller in for tickets that day, we ended up to the right of stage, in the third row, but still, obviously the Center had blocked off the center section for promotion winners, friends, etc. Who knows.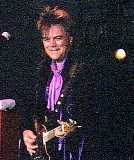 We also were sitting near three other fans I've seen online so our whole little Marty group took up the whole row in that section. What a combined cheering section we turned out to be for Marty. In fact, I think we were just about the ONLY yellers in the place and I joked to Jim that I felt at times like I was in a 2,000-seat mausoleum, these other 2,000 people were like the living dead and hardly moved in their seats. Jamie claims Marty did hear us and looked over toward us several times (we all made a pretty good noise!); I don't remember, being a newbie, I was too busy taking it all in. But being with these ladies was like sitting with family.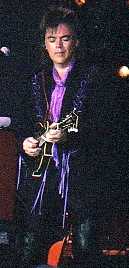 The show went in typical Barnyard format we've all heard about, with Marty's set first. It was a great show of course. Some songs were different from what I had heard before. He did not do "If There Aint....." but Merle did come out at one point to sing "Farmer's Blues" with him. This crowd wasn't rowdy like my first "Marty alone" show that I experienced in Paducah. Like, only one person in the crowd during his set yelled out something smart to him (a squeaky female voice, like "take off" whatever..") and Marty just gave it back and said "ok ok ok" with squinty eyes and this squeaky little voice too. I thought that was pretty funny. I always am amazed at his skill to work a crowd even if they call out something obnoxious. Anyway, Marty finished up with a gospel medley and "Hillbilly Rock." I forget what he encored to. It lasted for about an hour.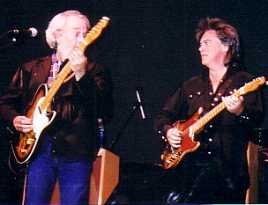 Between sets, fan club members were able to go back and see Marty. We DID have to show cards here. With me and Jamie and a few other Marty fans, I would say there were about 8 or so fan club members who got our Meet &Greet after a bunch of radio promotion winners, so I liked that, being kept together as our own group. Jamie got her first M&G ever and she was really thrilled, too. Needless to say -I- was pretty happy, too!
Then Merle had his set and truly, this appeared to me to be a "Merle crowd" from the get-go is all I can say coz suddenly those folks sure got animated. I can't say a lot about this part because although I knew some of the songs Merle sang from the past, I never was a big follower of Merle's so most songs, I didn't know, but the crowd did and they really loved that set. At the end, Marty came back out and played the last song with him.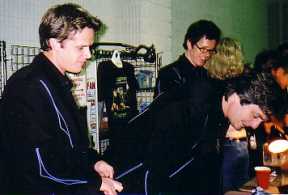 Afterwards Marty and the band came out to the back merchandise table to sign autographs, so we got another chance to see Marty and the rest of the Superlatives. Of course, Jamie had to have a T-shirt--MOM didn't get one, ah the sacrifices we make for our kids, eh?? But she got it signed. Near the end, people started taking pictures of Marty and nobody stopped them so we were lucky there too coz I got a couple more.

All in all it was a great night. An easy 2 hours of entertainment, a pretty good bang for the buck, I'd say. I think Jamie is going to now be my little Marty fan in tow, she's even going to school with that T-shirt on today to brag to all her friends and pestering mom about the next show she can go to. Now I wish I had seen other EB shows if they were anything like this one, esp. with the show I saw and the people I met.

Review by Diane Gilmore, Springfield, TN
Photos by Jim Gilmore