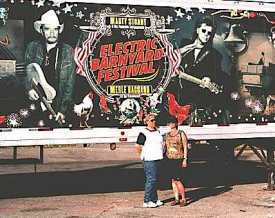 It was a beautiful sunny afternoon as Robert, Kristin Garcia (my Marty Party friends I met at the Galaxy show in March) and I headed out to San Bernardino. We arrived in plenty of time to be 3, 4, & 5 in line, then who should walk up next in line but Deanna Stevens. What a nice surprise. I haven't seen her since the good old Crazy Horse days. They finally let us in the gate and it was a mad dash to the festival gate, which Deanna and Bob ran fast AND got to the front. They started to let us all in and here is the best part...Deanna ran like a rabbit, wearing flip flops and threw herself across 4 metal folding chairs that had been baking in the sun and must have been 120 degrees. What a trooper! So we were in the front row...and off we went to get Marty shirts and stuff. While in line getting some food Deanna looks back and yells, "THEY'RE MOVING CHAIRS"! She ran off to help Bob and when Kris and I got back we were now closer to the stage, but second row. It was all still OK. I could see better from where we were, but a little more squeezed in.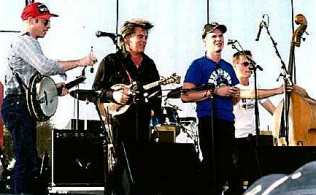 Finally it was time for the show to begin after three hours of patiently waiting in the hot San Berndadino sun. It started with an acoustic set by a guy named Bobby Pinson. It was only him and his guitar and he was pretty funny and entertaining. He was also really proud to be on tour with Marty Stuart and Merle Haggard. Then came the Old Crow Medicine Show. they were really good and Marty came out and played with them and the crowd went nuts.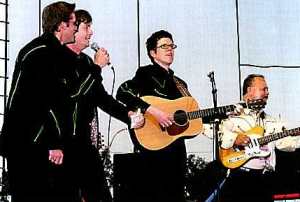 After that was Connie Smith. She's got a great voice and a really tight band. Marty came out and sang with her. They were so cute together, even if they did screw up their lines when they were singing! I guess you can do that if it's your anniversary and get away with it! Marty's band came out on stage then and sang a song to Connie and Marty and sang a Happy Anniversary thing to them.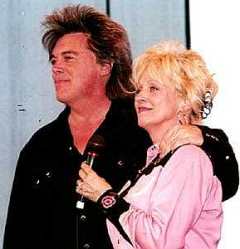 Now Marty's band is ready to come up next and everyone is ready for Marty. He comes out looking fine. He's wearing leather pants that he always looks so hot in! A black shirt with lime green piping, lime green scarf. The guys in the band are all wearing black suits with lime green piping. Kenny is such a great guitarist. I actually got to meet the drummer, Harry, this time. He is really nice and what a cutie Brian the bass player is! The show was SO GOOD! I can't remember the songs the order or anything. I was to busy having FUN. He did songs from his new CD, Country Music...when he did "Farmer's Blues" he said when Merle learns the words, he can come out and sing it with him. He also did some of his old songs. He did one of my favorites that Kristin screamed out she wanted him to do and then he started singing it..."Long Black Veil"...I'd like to think he did it for her.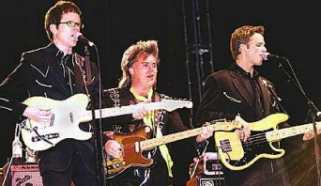 Marty ended and we watched part of Merle Haggard, but moved over to wait in line to get our Marty Stuart Country Music CD signed. We were first in line and glad we went to wait. The line got huge. I hope Marty was happy about the turn out for his CD. He had a black cowboy hat on for signing. I guess he had bad hair by then. He looked great to me! He signed my CD, I told him I loved the new CD, he said "thanks" and that was the end of a perfect Marty Party night. It was a long ride home back to Orange County, but we had our Marty Stuart Country Music CD to listen to all the way home!
Review by Patricia Dalton, Laguna Niguel, CA
Photos by Robert Garcia
---