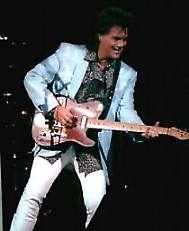 Marty and the Rock & Roll Cowboys zoomed into Dollywood for two shows, 2 p.m. and 7 p.m. Neither show was sold out, although the crowd was larger at the 7 p.m. show. Our seats for the 2 p.m. show were in row H, right smack dab center stage. Marty wore jeans with a blue jacket and really cool shirt--he shows up much better in these photos. The R&R Cowboys seem to prefer black.

Waved to Jodee Stocki before the show and Marty's mom and Connie sat a few rows in front of us next to Jodee (hey, how'd they get those good seats? Must know somebody!).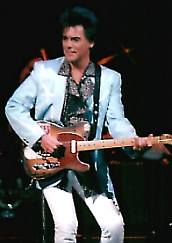 The guys came out and opened with "Because You Asked Me To" and went into "Doin' My Time." Next they performed "The Whiskey Ain't Workin'," and Marty made the comment that he can't sing that song without thinking of his brother Travis Tritt and how a lot has changed in Travis' life. He's a daddy now and he was glad that Tyler looked like Theresa and not Travis!
"Country Girls" was next and then "Oh, What A Silent Night." Anytime Marty plays mandolin on a song is a treat. This is one of our very favorite songs. Marty then introduced the band and mentioned that each one of them was from East Tennessee. He probably snowed a few in the audience....but we know better. Maybe when Marty introduced himself as "Dolly Parton," people got the hint that he was jokin'.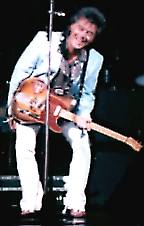 "Burn Me Down" got the ladies screaming and Brad and Marty were really into the antics during this song. Who could push each other harder--who's guitar licks were better....an awesome number.
Marty talked about living near some train tracks in Philadelphia, MS where he grew up and how his momma told him not to hang out around there because you could get yourself killed and you'd meet some undesirable types of people. But, Marty and his friend used to go down there and they loved to talk with the guy who ran the caboose. And, of course, they'd meet some of the "men of the rails,"--the hobos who hitched a ride from town to town and really had no place to go. For them, Marty wrote the song "Hobo's Prayer." He wrote it for the "Pilgrim" album he's working on.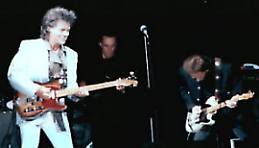 "Tempted" put the crowd back to clapping and then he mellowed out again with "Sound of the Train" which is also a new song. The mandolin came out again on "Can't Help Falling In Love," which Marty said he wrote (then said he wished he'd written it). Request time was next and all sorts of song titles were thrown out, but he decided on "Me, Hank and Jumpin Jack Flash." In this version, Hank told Marty to dedicate "Hey Baby" to Connie. Marty and Brad did their acoustic number and Marty closed the show with "Hillbilly Rock." The encore consisted of "Last Date" and "That'll Be All Right With Me."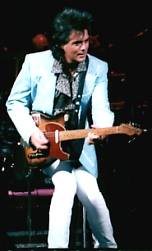 Marty met with fan club members after the show. While waiting, I had a chance to talk with Marty's mom and finally was able to congratulate Connie on the marriage after nearly a year (which she did not hesitate to mention "this Wednesday"). She said she had just been to Japan and she was overwhelmed by the standing ovation at Fan Fair. I told her I really missed seeing and hearing her on the Opry and she said she was coming back. She wore not a speck of makeup and looked absolutely beautiful!
Marty finally appeared and signed autographs for everyone (there were not a lot of fan club members there). Since he has some extra time, everyone can take that extra second to chat and Marty's always laid back and enjoying himself. After the meet and greet, Marty, Connie and his mom went next door and ate lunch.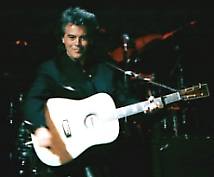 Second show, Marty went back to some older songs. They opened with "Half A Heart." Marty mentioned playing Opryland, then said, "Opryland is no more. Dollywood rules." "Till I Found You" followed and then he performed "The Wild One." Brings back memories of the early concerts. Next up was "Kiss Me I'm Gone," which had Marty and Gary playing "talking" guitars. Gary can sure make that steel come alive with conversation and Marty was doing his best to "talk back."
Request time again. This time, "Honky Tonkin's What I Do Best" won out. A new song I really like is "Red, Red Wine and Cheatin' Songs." Mario says they need to slow it down a little more! Marty grabbed the mandolin for "Heart and Soul." He talked about how country music originated in east Tennessee and how those songs always told the truth. He said he hoped the music would get back to that again.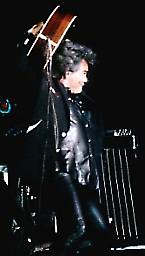 Another new song is called "Reasons" and I'm wondering just how Marty is going to fit all these wonderful new songs on his next album. It appears to me it'll have to include at least 20 songs. This song is especially beautiful--it's a ballad and reminds me of "That's What Love's About." Marty's songwriting just gets better and better! "Back To The Country" was next and then they performed "Okie From Muskogee." Marty talked about how when he and Travis toured together a couple of years ago, they'd come out together and do a few songs and try to play "Stump The Band." One night, they did "Okie From Muskogee" and Marty couldn't remember the words to a verse, so made up his own verse which included a reference to fitness guru Richard Simmons. Marty made a promise to never do that again. Well, it appears he was unable to keep that promise and twice Marty ended up running into Richard Simmons live and in person--thought that was an omen!
By the way, look...Marty can play the guitar from over his head and behind his back.....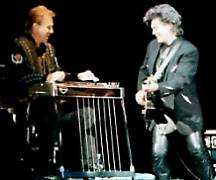 Next number up was "Hey Baby." Why was this song not a huge hit? It's obviously one of Marty's favorites! Marty again picked up the mandolin and performed "Sweet Sweet Spirit" which is a touching slow song. They launched into "Marty Stuart Visits The Moon" which showcases Marty's incredible mandolin playing and Brad's acoustic guitar picking ability. They closed with "Hillbilly Rock."
Marty never fails to thank Dolly Parton for letting him perform at Dollywood. He mentioned that he and Dolly have been friends for years and last year they wrote a song for movie which Alison Krauss will perform on the soundtrack.
Marty then introduced Melissa Maynard who had won a talent contest which included getting to perform a song with Marty and the Rock & Roll Cowboys as her backup band. She did a great job of performing "Safe In The Arms Of Love." Marty and band performed "Tempted" and that was it!
Here are a few more pictures from the first show for you to enjoy!
---