There is no better way to spend the 4th of July than with Marty and the Rock and Roll Cowboys. Who needs fireworks when these guys are on stage performing! The temperature hovered in the 90's but we were able to stand under the large covered entrances to the Celebrity Theater. That's where I first hooked up with Brenda Metz, LaDonna Cable, Sheila Walters, Pat Johnson, Ellie Viscione, and Cindy Allred

It sure was nice when they opened the doors so we could cool off. There is no better view of the stage than front row center and this year my dear friend Mary Runyan managed to snag those priceless seats. I figured with a new camera and great zoom lens, the pictures would be absolutely fabulous! Okay, so Mario still needs to learn how to use the camera, but he did get some fabulous shots.

This was the first concert we'd seen since Marty revamped the show and put Mike and the rest of the crew in costumes. Mike comes out first in his ringmaster outfit trying to get the fans to scream and yell loud enough to make Marty and the Rock and Roll Cowboys want to perform. Put Mike in stage clothes and give him a microphone and he wants his own show. Just kidding! He does a great job of getting the crowd excited (okay, so he's the warm-up act) and on their feet.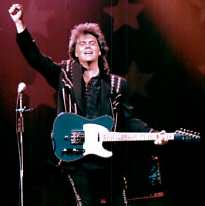 The curtain came up, revealing Marty and the Cowboys. I'm sure someone in a previous review has mentioned the new stage layout, but Brad has moved from Marty's left to Marty's right (near Gary) and Gregg has been moved from center-stage to Marty's left by Steve. This puts Marty center-stage and balances the effect. The backdrop has stars on it which seem to shine iridescently. Lava lamps adorn the stage as well as some new lighting at stage level.
They opened with "High On A Mountain Top," then went into "The Whiskey Ain't Workin'." During the chorus where Marty has the audience sing along, Les Banks (sound engineer) carries a box out and stands on it, conducting the audience while they sing. The first show, Les was in full dress. The second show, he had on shorts (which Marty said were the prettiest legs he'd ever seen). Marty always seems to talk about Travis after doing this song. This time, though, he mentioned how he was supposed to spend the day before with Travis because July 3 was the day Theresa was to have the baby. Marty said that Connie told him it would come two weeks early and, sure enough, Tristan James Tritt did. Marty said he lost a whole show date because of Travis.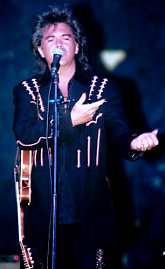 Marty said Travis was a cool guy, but he knew someone else who was cooler and that was his ex-father-in-law, Johnny Cash. He told the story of the "Blue Train," which was a ghost train that ran from Memphis to New Orleans. You didn't need any money to ride, you just got on. "The only thing you needed to ride this train was a bad case of the blues." During this song, Gary Hogue plays a haunting steel guitar solo. He can make that instrument cry!
"Tempted" was next and Marty played the new signature Telecaster guitar. They are back to using the strobe light during the bridge of the song. Cool effect, but how do Marty and the band keep from getting dizzy?
Marty talked about the "Singles" ads in the paper and performed the John Prine song "We Are The Lonely." During this song, each of the band members is spotlighted with solos, starting with Gregg, then Steve, Brad and (finally) Gary.
Marty picked up the mandolin and began playing. It's the highlight of any show! He's chosen the song "Dark As A Dungeon" which he has turned into a beautiful, emotionally-filled song. Just to watch Marty push the mandolin to his side and emote these feelings with his hands and arms, is breathtaking.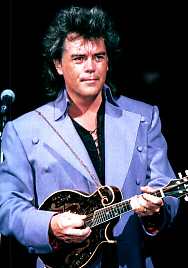 He then introduced the band. Marty told Steve he was "lookin' sharp" and Steve turns around and lifts up his jacket. The ladies screamed and yelled. Marty said, "I'd like to say at this time, we all get our clothes at Wal-Mart. And I want to say this from the bottom of my heart. If it wasn't for you, we couldn't wear these expensive cowboy clothes. So thank you all very, very, very, VERY much." Of Gregg, he said, "Every band needs a good drummer and we have the greatest drummer." He called Gary "Precious," so there has to be story there! Anybody know what that is? Marty said that he and Brad have been doing just about every show together. He added, "playing music I'm talking about."
"Burn Me Down" was next and then Marty talked about the new album. He said, "I've been waiting 25 years to make this record. I put everything in it that I love about country music. If it's too country for some people, then it's about right for me." He also congratulated Dolly Parton on being inducted into the Country Music Hall of Fame. Marty also talked about his hobby of taking photographs and that his book of photos would be coming out this fall.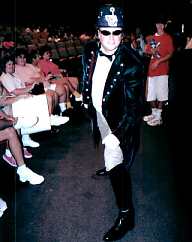 Marty said he'd like to do a few songs off the new album. They performed "Sometimes The Pleasure's Worth The Pain," "Hobo's Prayer" and "Red, Red Wine and Cheatin' Songs." Marty's signature song, "Hillbilly Rock" means the end of the show. They left the stage and when they came back out, Marty was wearing his lavender long coat. He broke into "The Pilgrim" and moved all over the stage, even coming out to the edge of the stage. It's such a great song and I know Marty feels the words personally. In some of the pictures, he actually appears to be crying. The song has such a powerful finish, that's it's a perfect song for an encore and a way to leave the audience exhausted.
Then it was time for the meet and greet. There's about 4 hours in between shows, so Marty has plenty of time to chat with everyone. Marty came out in a white long-sleeved shirt and tan shorts and wearing white socks and sneakers. No pictures this time! Marty sat down on a stool ready to sign autographs. The line was fairly long. I'm sure there were over 100 people there. It's nice to have a chance to talk with some of the fans.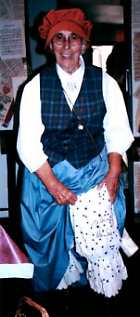 I'd printed out several things from the website. I wanted Marty to read what the fans thought of The Pilgrim as well as a few interpretations of the story. And many people have sent personal messages to Marty through the Guestbook, so I printed that out as well. I thought he'd like to read the general Fan Comments, too, so I had a thick stack of papers and I asked him to please read them.
Mario and I were famished, so we went next door to the restaurant to eat lunch, joined by Mary Runyan and her fiancé Lynn and Sheila Walters and her sister-in-law. Sometimes Marty is brought in there to eat (not this time) but the band and crew were there in a separate room. They had to walk by us to exit. Several other fan club members had some over to eat so we had the pretty room full. We got to wave and say "hi" as they walked in and out. One of Dollywood's employees, 94-year-old Ma Hatfield had gotten Marty to sign her bloomers. She sang a song and posed for a picture.
At Fan Fair, Mary had promised Jodee's son Travis that she would ride the new Dollywood ride, the Tennessee Tornado. After eating, Travis was ready! Mary had already gone on the ride earlier in the day and, well, a date IS a date (or maybe a promise is a promise--Travis IS only 16 and Mary is engaged). The rest of us finished eating and strolled over to the ride to watch.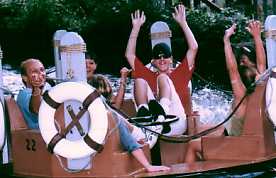 If you love rollercoasters, then you'd probably love this ride. There is a total of three 360-degree loops. I function best if my feet stay on the ground. Although Travis put on his charm and tried to coerce me to lose what little brain mass I have, I was more than happy to stand and talk with Jodee and watch.
Steve and Gregg were also there and went on the ride as did Rachel (she loved it). Jodee wanted to ride it as well and there was no real line, so Elliott stayed with me and Mario while the rest of them rode it again. The kids wanted to ride the Rampage, so off we head to the other side of the park. Steve decided he needed to get dressed for the show but Gregg was game to get wet. We stood and waited and waited for them to appear, Jodee checking her watch. Here you see Gregg (pointing), half of Mary's face, the back of Elliott's head, Travis with his hands in the air (looking so COOL, don't ya think?) and Rachel has her hands up as well. We knew the show couldn't go on until Gregg got there. With about 10 minutes to showtime, they finally rounded the corner by us. A quick dash to the theater and we found our seats (6th row this time).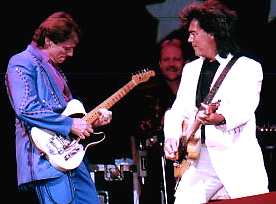 This time, when the curtain went up, Marty was in white pants, white jacket and black shirt! He really "stands out" with the white and he wears it so rarely. The set list for the second show was the same, except they also performed "Draggin' Around These Chains Of Love," before "Hillbilly Rock." For "The Pilgrim," Marty wore a long blue coat.
This year, for the first time in several years, Marty agreed to do a second meet and greet after the 7 p.m. show. Normally, Mario and I are out the door on our way back home but we stuck around and we were thoroughly entertained by watching Travis and Elliott squirt each other with spray bottles that Mary and I had brought. Gregg's mom was there and told Mario that she checks out this website all the time.
All too soon, we're called into the line and it's a quick hug from Marty. I told him I really wanted him to read all I had given him and he said, "I started to, but I feel asleep." I know the comments weren't THAT boring! Out the door, it's time to say goodbye to all our dear friends. How I hate that I get to see them so infrequently. But I do thank Marty for bringing us all together.
---
Review by Sherry Mattioli
Photos by Mario Mattioli