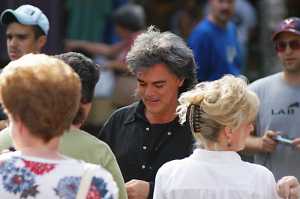 Gary and I got there a little early for the second show and just sat down outside the theatre looking for Mary or Brenda or anyone else I knew. While sitting there, down in the crowd appeared Marty and Connie just out walking around. They stopped for photos and autographs. They were out there about 10 or 15 minutes, no security or nothing!! We watched for a while then decided to walk down to that area. That is where I found Mary and Brenda!!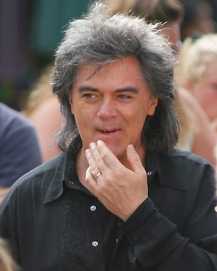 Marty looked up from the crowd and hollered he liked my shirt (Marty drawing) and Connie said, "Me too!!!" Security arrived and slowly started ushering them back to the theatre. They stopped outside there and signed and posed for more fans! The sign on the theatre had "MARTY & CONNIE" and Marty wanted their photo with the sign. Dollywood took that photo for them and they posed for the crowd and then went in. I commented on the fact that he had to be roasting out there in his black leather pants!!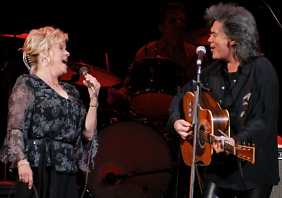 The show was great! Connie and her band came out first and performed for about 30 minutes with Marty coming out for "After the Fire is Gone," the Loretta and Conway song. She was in great voice (of course). Then came Marty and the Fabulous Superlatives!!! They sang old stuff and new stuff sounded great, and Marty was dancing all over the place!! (Mary has the song list) Harry even came down from the drums and they all harmonized on one song!! They performed for about an hour-and-a-half, then came "Hillbilly Rock." But for a surprise ending, they performed "Me & Hank & Jumpin' Jack Flash" into "High on a Mountain Top" which someone had requested!! All too soon the show was over.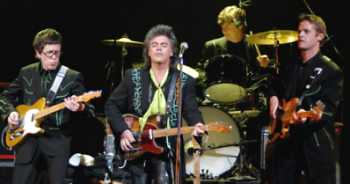 The fan club members were told to wait on the side. Connie came out and signed on one side then Marty came out on the other!! He was allowing photos and signing anything. Brenda and family gave Marty her shirts with Travis and him airbrushed on them which he said would go in the Country Music Hall of Fame!! She told him the photo on the fan club newsletter was sexy!! He laughed and said it would be on a t-shirt. CAN'T WAIT FOR THAT!!!!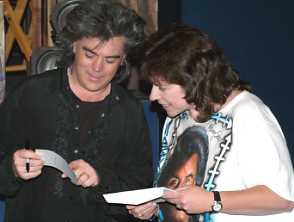 My turn came, I gave Marty a photo I had taken at the Jam of him and Connie and he said that it was great and he hardly ever got good! photos of him and Connie together - he took his time looking at the photo and wanted to know who the person is the backgound was and I told him it looked like one of Wynonna's singers and he said "oh yeah!!!" He signed the photo of me and him and said it was great and posed for a photo. Gary was standing off to the side taking the photos and we all kept saying as each of us walked up to look at Gary and Marty said, "Yes, he has the real camera!!" Mary and her daughter Staci were up next and, of course, I could not get her camera to work but never fear. We said "Look at Gary," and he got the shot!!! We all then went over to Connie and had photos made and then off to the trolley ride out to our cars.

It was a wonderful evening with wonderful friends and of course the best entertainment money can buy!! Gary got some awesome shots. I think maybe a road trip is in order for the Electric Barnyard Tour!!!

Review by LaDonna Cable; great photographs from Gary Cable, Johnson City, TN