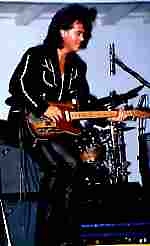 Fortunately, the weather in Ohio had turned for this one! It was a beautiful day. There were no reserved seats for this one, and we went to get in line as soon as they'd let us--at 3:00, and man, did that line form fast!

They had to wait for the daily horse races that they have down there to finish and then set up the stage and lighting and everything, which held things up past when they said they would open the gates, and people were antsy. When they finally got the gates open, it was a mad dash for the seats. There weren't any seats that I could say were very good. It was all grandstand seating behind a chain-link fence.

When Marty came on, he was joking about it, saying "where are you people? Why are you guys so far back there? You all look like you're in prison, behind that fence!" Then he made fun of the place for not setting up track seats saying they must not have wanted to mess up their dirt. Ha!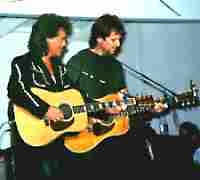 Marty's show was pretty much the same one I'd seen a few nights before at Old Washington, but he was really, really animated-- jumping all over the stage, dancing, playing with the guys, teasing the crowd. Again, he featured all the guys in a number. It was quite a nice show--a great evening.

The meet and greet was after the show again and we got in line. I'd gotten the one-day processing on my photos and took them back for the one-hour enlargements and I gave him one of he and Connie singing together and one of just Connie. Considering it doesn't happen too often, I thought he'd like to have them and he said he was happy to get them. I told him both the shows that week had been great and that I couldn't believe he'd actually done the show at Old Washington, He signed a picture that I'd taken with me of him and Gary, and I gave him a quick hug and left.Gary was standing by the bus and I waved to him and he saw me and motioned me over.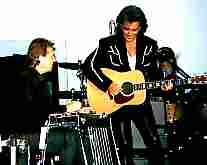 I told him that I'd gotten the tapes and how much I loved them and we talked about the music for a couple of minutes. I asked him to sign the same picture as Marty. He liked the picture and said I was "quite a photographer." Not really, but sometimes you get lucky, right?
I thanked him again for getting me the information to get his tapes and then he gave me a hug and I left with my friends.
Review and Photos by Mel Angel