Columbia State Community College welcomed gifted singer and songwriter Marty Stuart and his Fabulous Superlatives for a fund-raising concert on Thursday, April 15, 2004. It was nearly a full house with tickets sold by both a local bank and the school itself to help fund its arts program and pay for the new 500-seat auditorium we were sitting in.
The stage was creatively set with soft lights and six colorful lava lamps nestled in strategic places around the band's equipment. Twinkly white lights hovered over the stage reminiscent of those draped over a Christmas tree lot at holiday time.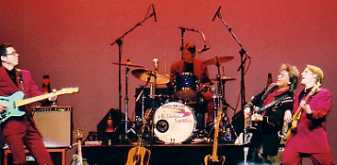 As to be expected, Marty and company put on a light, fun show. They played several familiar and popular songs, with some new stuff thrown in to keep things interesting. Marty was a gracious and entertaining host, telling colorful anecdotes about particular songs or times in his life growing up on the road, and his musicianship was as powerful as ever. They opened with "The Running Kind," followed by "Too Much Month...," "The Whiskey Ain't Working Anymore," and "Homesick." Marty then introduced a new song he had written recently called "Dark Bird," about the death of Johnny Cash. He related the inspiration for the song came from a set of fruit trees that bordered his and Cash's property line. Often, he said, he would look out at the trees from his own window and see a big, black crow sitting atop them, as if John himself were watching over the old homestead. It was a haunting tune with insightful lyrics and a real centerpiece of Marty's songwriting skills.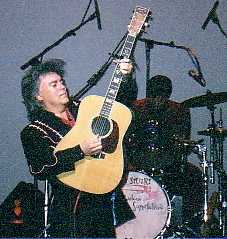 Then came "A Satisfied Mind" and before introducing "Farmer's Blues," Marty acknowledged wife and co-writer Connie Smith who was watching the show from backstage. He then took a stint down memory lane with crowd favorite "Tempted" and "Burn Me Down," the latter of which he had not done in awhile and the crowed just loved. The Superlatives then got a chance to showcase their individual talents with Kenny Vaughan's solo, "Country Music's Got A Hold On Me." and Brian Glenn's "Till I Get it Right." Marty then followed with a burning mandolin instrumental solo which was, as usual, a show highlight.
The band's gospel set included the soulful "Slow Train" featuring a killer lead by Harry Stinson, and one more, the old-time bluegrass gospel tune, "Paul and Silas" They finished with perennial favorite, "Hillbilly Rock." The encore included "Draggin' the Line," and Marty added a surprise track from The Pilgrim, "Hobo's Prayer," which the crowd seemed to really enjoy.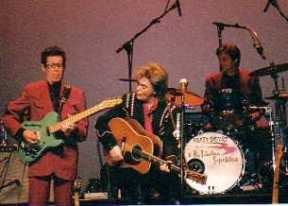 The evening wrapped up with Marty and the band generously giving their time afterwards to meet fans and sign autographs at the merchandise table, with merchandiser Jim Hill mingling through those in line with his comical, zany personality, giving it all a festive mood. Those who stayed also got an extra treat of meeting Connie Smith who stood nearby in support of her husband.
Marty once again made his simple formula of indelible melodies, incredible hooks, and magical harmonies a winner among this crowd, a night the residents of Columbia surely remember for a long time.
Review and photos by Diane Gilmore, Springfield, TN