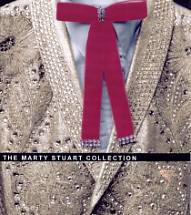 THE MARTY STUART COLLECTION is one of the most notable, private, music memorabilia collections in the world. Over 20,000 items are hosted here. Costumes, manuscripts, instruments, art, recordings, photo and film archives create an inventory that represents many of the icons in American music.
Select items have been exhibited at the Rock & Roll Hall of Fame, the Autry – Western Heritage Museum, the Cody Museum, the Country Music Hall of Fame, the Frist Center for the Visual Arts and the Louvre in Paris.
One of the dominant features is the collection of Western costumes celebrating the work of such masters as Nudie Cohen, Manuel and Jaime Custom Tailor. The collection has inspired or contributed to such books as How The West Was Worn, Hillbilly Hollywood, Manuel: Star Spangled Couture and Nudie, the Rodeo Tailor.
"I've always been historically minded. Even as a kid when I'd watch performers on television, I paid attention to their instruments, suits, boots and hats. Those things seemed important to me. When I first arrived in Nashville in 1972, it was a sight to behold when the stars gathered. It truly was Hillbilly Hollywood. Rhinestone suits, Cadillacs, fancy guitars, pompadours and beehive hairdos gave those hard hitting country songs even deeper impact. It also gave country music a cool, glitzy, one-of-a-kind image. The image matched the music and its makers, giving country, music a pedigree in roots authenticity second to none.
I loved every aspect of it. I wanted to be part of the legacy the Carter Family, Hank Williams, Johnny Cash, Patsy Cline, Flatt & Scruggs and their likes created.
The archivist in me came to life when I was on tour as a member in Johnny Cash's band in 1980. One afternoon I was out walking the streets of London when I met a man named Isaac Tigrett. He was on of the co-founders of the Hard Rock Café empire. Isaac invited me to come and have a look at the London store. I went, and I was fascinated by the concept. The idea of gathering Rock & Roll memorabilia belonging to The Beatles, The Rolling Stones, The Who, Janis Joplin and Jimi Hendrix, then forming a scene around it dazzled me. Even though it was a restaurant there seemed to be a reverence for these artifacts here.
On the way home to America I began thinking of how the country music world had basically cashed in its twang, its rhinestones and most of the other things that had defined its character for so long in favor of a new look and sound that was more generic and palpable to the urban audience. As that new era entered, famous people were put out to pasture, their beautiful suits were forgotten, sold, thrown away or sent to thrift stores. Great guitars were pawned, traded or sold to foreign collectors. This was a very common scenario in Nashville.
I was all for twisting the hands of time to carry America's music as far into the future as possible. I was looking for a new edge as well but I simply thought it was a crime to stand idly by and watch an important segment of American culture cast aside all in the name of progress. It seemed disrespectful.
It was then that I launched a mission to rescue what I termed 'treasures of American music'. Outside of the Country Music Hall of Fame and a handful of hobbyists, nobody seemed to car about preserving this segment of history. I fancied myself as a passionate revisionist.
As I began collecting, my first holding tank was my bedroom. It quickly filled up with records, tapes, guitars, photographs, boots, hats and rhinestone suits. Now it's in a 5000 square foot space in preparation for its permanent home, which will soon be announced.
I regard the collection as a treasure chest. It's an awesome thing to hold the handwritten manuscripts of Hank Williams' 'I Saw the Light or Your Cheatin' Heart'. Just as it was irresistible for me not to try on the very first Johnny Cash 'Man in Black' suit from the 1950s, after finding it.
I had to light Jimmie Rodgers' railroad lantern one more time to watch it cut the darkness. It's touching to read a letter Patsy Cline wrote to Nudie ordering new clothes for her bright future less than a week before she lost her life.
It's still majestic to me when I'm all alone to take Lester Flatt's guitar out of the case and sing a song to nobody but me and his memory.
These are but a few of the treasures now in the collection. Everything has a story and there's usually a good memory that goes along with how I came by each of them.
It's quite a feeling to stand in the same room with such history. Electricity seems to bounce off the walls. The place is filled with tangible spirits that seem to whisper, "I'm alive and well."
Johnny Cash
First Black Stage Suit and Tie
Circa 1955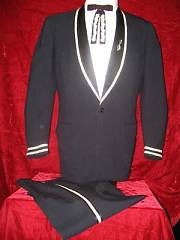 Cash said, "When Marshall Grant, Luther Perkins and I first started playing music together some of our first engagements were at churches. We decided on wearing black. Not long afterwards, our records started getting played and we started getting booked on other types of shows with other artists on Sun Records. One of these was a show with Elvis at the Overton Shell in Memphis. My Mama came and noticed the contrast in Elvis and his bright clothes and me and my black suit. She went to J.C. Penney, bought some edging and put it on my suit so I would have a little more impact. I've always called this 'My Mama's suit.' "
When I was married to Cindy Cash we went to visit her mother Vivian in Ventura, California. During our stay, Vivian took Cindy and me into the garage and opened up a trunk filled with things from the time in her life when she was married to John. I remember seeing a bundle of letters he'd written to her when he was in the Air Force, several pictures and three suits. Two black ones and one white sport coat with black piping and silver edging on the lapels with some customized black western cut pants to go along with it. She said, "These were Johnny's first stage clothes." She let us look and then closed the trunk. Ten years later those suits came to Nashville. Cindy owned the white sport coat with black pants and her sister Kathy, owned the two black suits, one of which she sold to a local museum. It remained there for a while and then was offered for sale. Kathy retained the second black suit for a while and then also offered it for sale. It was then that I purchased both black suits. Cindy kept the white coat and used it in some performances she was doing at the time. Afterwards, she offered the coat for sale and I purchased it as well.
Johnny Cash's "Man in Black" persona has now entered into the realm of world culture. One hundred years from now, Johnny Cash will still matter. Like King Arthur, Geronimo, Buffalo Bill and other towering figures that burn brightly in history, the name Johnny Cash will forever be a folk hero synonymous with Old America and the American dream. To me, these suits represent his life at a much simpler time back when most of his dreams were still in his head and he was just another country boy playing his songs in his first black suits that were touched by his Mama's love!