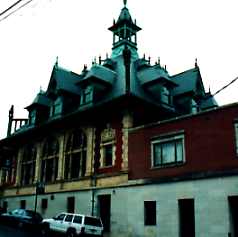 The Customs House Museum and Cultural Center in Clarksville, Tennessee held a reception honoring Marty on September 6, 2001. Over 2,000 invitations had been sent to the Musuem's members and the event was also open to the public. About 500 people showed up for the event. The Museum featured an exhibit of Marty's photographs called "Shooting From the Heart." Also on display were a shirt and jacket from Marty's personal collection. Thirty-one of Marty's photographs were on the walls. Music was provided by Kristin Wilkinson and the Wilkinson String Quartet (which also included her husband, Larry Paxton who, together with Marty, composed the score for the movie All The Pretty Horses).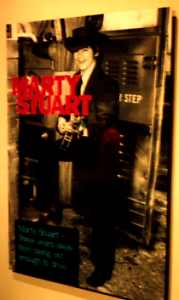 Mario and I arrived about 6 p.m. and were welcomed to the event by the Museum's director. Walking into the lobby, we noticed the "Marty Shop" was open. A table with Marty merchandise featured some new shirts, pictures, mini stand-ups, baseball caps and Marty's book, Pilgrims: sinners, saints & prophets. The exhibit area was a very long, rectangular room. The pictures were very spread out on the walls.
Fellow fan club members, Evelyn Totty and Shelby Jean Gootee, were already there. There was an offering of finger foods, which helped because we hadn't eaten any dinner. Shortly after we got there, the Wilkinson String Quartet played "The Pilgrim." It just sounded so beautiful. I spent time talking with Evelyn and Shelby Jean while Mario walked around and looked at the exhibit. He also talked with a security guard (with a gun strapped to his leg) who said he was there to get Marty's autograph for his wife. Members of Clarksville's finest were also there keeping an eye on the crowd. This large picture featured the caption "Marty Stuart -- Three years away from being old enough to drive."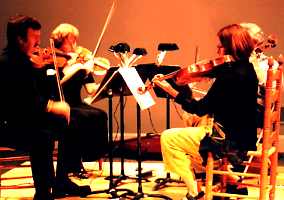 When the flashbulbs began going off, you knew that Marty had entered the room. Marty had come dressed in a suit. A crowd gathered around him as Museum director, Ned Crouch led Marty through the exhibit. Marty also signed autographs along the way and posed for pictures with the fans. He also stopped and looked at every picture. I found Mario talking with Marty's mom. Connie came over to us and we talked. Jodee came by and told Hilda and Connie, "Marty wants you." So, we followed the crowd. Basically, Marty wanted to acknowledge Kristin and her quartet. Mario and I stayed down at that end of the room and talked with fan club president, Jodee Stocki.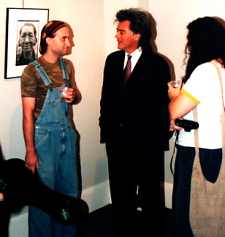 By this time, Marty was standing by a small table and the line had formed for autographs. Mario and I just stood back and watched. Most people had a copy of the book they wanted signed, but others game with guitars, pictures, and Museum newsletters for Marty to sign. He was happy to also pose for pictures with the fans. At one point, Connie went up to Marty and they were hugging it up for the cameras. Unfortunately, Mario was busy chatting with Hilda and didn't catch the shots.
I waited at the end of the line until most everyone had gone through. I didn't have anything for Marty to sign, so I just went up and got a hug and asked him a question that had been emailed to me regarding the pickups on his Clarence White Telecaster. I told him we were all sorry that Billy Bob's tour had been postponed and how tickets at some venues had already been put on sale. He just said, "Oh well."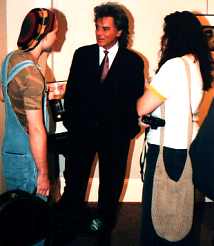 Mario and I walked back out into the lobby where Jodee was waiting. Connie, Hilda and Jennifer were in the gift shop and Connie came out with a shopping bag. Marty continued to talk with some of the people before also going into the gift shop. Someone nearly knocked over a picture on an easel trying to get to Marty. He actually caught it before it fell and then put the picture back on it. Marty also took a flute-type instrument and was trying to play it. Other people snapped pictures......Mario had finished up a roll of film and had the camera put away. One of these days, I will get a digital camera and have it surgically attached to my right arm.
When they were ready to leave, Jodee, Hilda and Jennifer all came back out to us to say goodbye. They all went out a side door and we went out the front door. The limo was parked out front and Maria-Elena, Marty and Connie were already in there. Marty got out to let Jodee, Hilda and Jennifer in. I told him to have a safe trip to Texas and Mississippi. He turned completely around (since I was standing behind him) and said, "Thanks, Sherry." He also said, "Bye, Mario" and got back in the limo.
This type of event is always enjoyable. Marty is very accessible and you're able to spend more time with him. He also brings his family and everyone also enjoys talking with them. I figured this would be our last opportunity to see Marty this year and we really didn't want to miss it.
Enjoy the rest of the pictures from the evening:

Marty and Maria-Elena check out the exhibit
Marty loves the kids
Connie, Marty and Hilda listen to the music
We applaud the Kristin Wilkinson Quartet

Some of the crowd enjoying the event
Marty had a great time meeting everyone
Review by Sherry Mattioli
Photos by Mario Mattioli