"I can't remember a time in my life when a camera wasn't involved. When I was a kid, my uncle George Day had a portrait studio in Philadelphia, Mississippi where both Mom and Dad worked. He used me as a subject to try out new film.
My mom went on to be the 'queen of the mom shutterbugs.' She started taking pictures when she was in her teens and was more than ready for action when my sister came along. Her snapshots taught me the power and beauty of making time stand still with a camera. Her pictures were shot from the heart.
When I was 13 years old, I got a job in Nashville with Lester Flatt at the Grand Ole Opry. The Opry cast as well as the other people surrounding country music in those days were one big family. One day, a veteran remarked, 'I'd give anything if I'd just had a camera and a tape recorder when we worked shows with people like Hank Williams and Elvis.' This inspired me to ask my mom for a camera. In 1972, she gave me a camera for Christmas and I proceeded to terrorize anyone that ever played, sang or knew a country song.
Since then, my world has expanded. My musical family keeps growing and diversifying, but I still see everyone in black and white -- the pure tones that led me to the vision that every day is a family gathering, when all your friends are pilgrims." -- Marty Stuart
---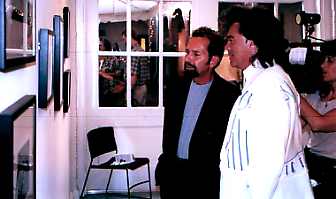 Cheekwood held the opening reception for Marty's photo exhibit on June 11. It was open to the public, so Mario and I attended. The main crowd was under a white tent where you could feast on free food and drink. Marty's exhibit is in a small room off to the side.
There are 30 photographs in the room, each captioned with words from Marty. He has such an incredible eye for capturing candid, one-of-a-kind, treasured moments from some of the greatest legends in country music and other walks of life. Luckily, the entire world will be able to enjoy these photos in the book Pilgrims: sinners, saints and prophets, due out September 1, 1999.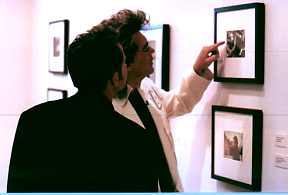 While Mario and I were viewing the photo exhibit, we realized Marty was following us as he was showing Tony Brown (president of MCA Records) every single photograph. They were followed about the room by a TV camera which was recording every word.
Marty's mom was viewing the exhibit when we arrived and we exchanged hellos. I don't think there are enough words to describe the pride Hilda Stuart feels over her son's successes in life. She is truly his biggest "booster" and, honestly, is the reason Marty is where he is today, sending Marty on the road at the age of 12 so he could play the music that he loves so much.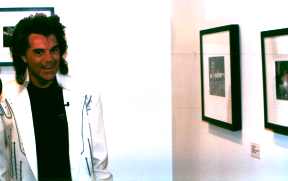 It was obvious Marty is extremely proud of this exhibit. He was more than happy to talk with everyone about the project. Here he's actually posing for Mario. He'd made the comment how he never dreamed any of his photographs would ever be hanging on a wall. It was just a hobby for him. This is actually his second photo exhibit. There will probably be many more to come as Marty has about as much chance of putting down a camera as he does a guitar. Marty had obviously spent a few days out in the sun. As you can see, his face is very tan.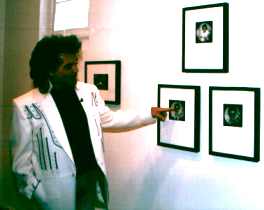 In this picture, Marty is showing off a three-set photo display of Johnny Cash. The book will feature several photos of Johnny. Of course, the BEST one there was a picture of Johnny and an ostrich. The ostrich is looking dead straight at the camera. The picture is titled "Two Great Americans."
More and more people started coming into this small room. It became crowded and very hot! I was talking with Margie Sullivan and Shelby Jean Gootee while Mario took all these great pictures. I was not close enough to hear Marty describing any of the photos. (Maybe I need a private tour! Now, why didn't I think of that?)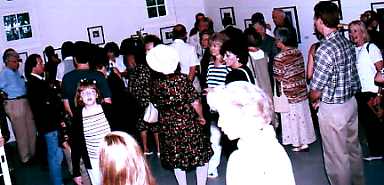 How many people can you recognize in this photo? I asked Mario to get a picture of the crowd. First of all, Marty's manager, Bonnie Garner, is on the far right in the white shirt. The only other people I recognize is the group in the middle. Shelby Jean is in the hat with her back to the camera, that's ME in the horizontal-striped shirt and Margie Sullivan is on my left. Folks were dressed rather formal but most were dressed very casual. We knew Marty wasn't going to put on a suit and tie for this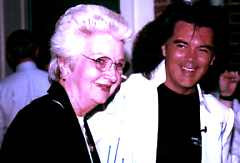 As you can tell, Marty loves his mama. And here you can really see that tan! Marty really worked the crowd, shaking hands, talking. He actually acknowledged Mario when we first arrived and Mario was taking pictures. Me? Well, it takes me some time to finally get to Marty. He was walking all around the place and I spotted him several times but he wasn't anywhere close. I was talking to some people when I realized Marty was standing just a few feet away all by himself. I leaned around Margie Sullivan and said, "Hey Marty." I says, "Hey Sherry." So I walked over to him, got a hug and he says "I'm looking for my wife." I told him I hadn't seen her. He was going to make a short speech and wanted to wait until she got there--so things were running behind, timewise. We chatted a minute about the new album.
Rather than go on and on, here are the rest of the photographs. They show Marty working the crowd again, welcoming Connie when she arrived, giving his speech, talking with Bruce Hinton, Chairman of MCA Records, and working the crowd again. That was pretty much it until we got ready to leave and ran into Marty again. I asked him how he was going to survive his hectic Fan Fair schedule. He said, "I don't know my schedule for the week and I don't wanna know my schedule." Got to see Donna Lewis and Leslie Anne Rawlings and Jodee Stocki was there too. Met Ingrid who has promised to check out these pictures on the website. You might also like to read what Terri Smith, the curator of this exhibit, had to say about the process of choosing the photographs.