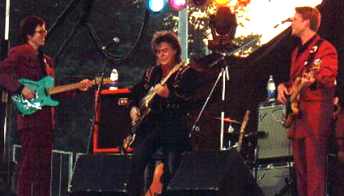 My nephew and I headed out from my office about 3:30 p.m. and got there for a long line (general admission). But we went around to the shade of the building and weren't too far from the gate. Someone came out and was throwing the little Styrofoam Marty coasters out to the crowd. I never did see who it was since we were as far right of the crowd as we could get. They opened the gates at 5:30 and I told Tony if he lost me I'd be trying to get as close to the stage as possible. We needed to save another friend a seat too. We managed to get 4th row. Tony knew someone in the VIP section but by the time they offered us their two extra wristbands to sit there we were closer on the right side of the stage than we would have been in the VIP section and Pat couldn't have gone and I didn't want to leave her.
After Pat got there, I checked out the merchandise and they had some really nice shirts I didn't have. I got the one with Marty on the Caddy and the black tank with his logo in metal sequin, I really liked it. Maria-Elena was at the booth as well as Jim Hill. Two other ladies were selling disposable cameras, CD's, and a very nice picture of all four of them (Marty and the Fabulous Superlatives). They mentioned Marty would be signing those for everyone after his concert. Got some nachos and bottled water and headed back to my seat. Tony, Pat and I had a real good view of the stage.
The show started with the US 101 crowd coming out introducing the DJ's. Then Jim Hill (with Marty's crew) came out and really got the crowd ready for Marty. They band was all dressed in their Sunday best on Saturday and they all matched. (Pictures later)
Then out came Marty! They were in true form and really having a ball. They had a real party crowd too. Remember this was a biker's concert for the kick off for the Trail of Tears ride. Girls were dancing, and the Bud was flowing. Of course Marty had his cup of iced tea. Luckily they sold bottled water for me, and it was plenty warm for it. But the sun went behind the trees just before Marty came out.
He started out with "Back to the Country" which is a good start considering the name of his new album Country Music. Of course he mentioned the album, and if you bought it and who'd give your money back if you didn't like...Travis! After mentioning Travis.....he said wellllllllllll, and we sucked, so we all tried again. This crowd did not suck the second time around. Then we had a great rendition of "Whiskey Ain't Workin" with a little help from the crowd. He did a very long intro to "This One's Gonna Hurt You (For A Long, Long Time)." Everyone loved it, but this was a such a great show.
Next was "A Satisfied Mind," then the "Rock Island Line" story with song! He really played the crowd on this one. It had to be awfully warm up there in those suits! He threw his towel down to the crowd but it was a front row winner who got it. He did a great job on "Farmer's Blues" and talked about how we earn our hard earned dollars every day, and sang what I call the Washington dedication song (respectfully), "Too Much Month At The End of The Money."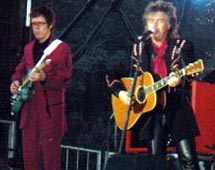 Now by this time the crowd was really ready for "Burn Me Down" and they danced and whooped and hollered and he went right into "Tempted." He introduced the band from all the local towns of Etowah, Hixson, etc. Then Kenny Vaughan sang his "Country Music's Gotta Hold On Me" and tore the crowd up. I really don't think they knew what to expect but he gave them a show! Harry came around off the drums then, and I enjoyed this so much! They all sang "Slow, Slow Train" and you can't imagine a crowd of.......well, I'm no good with #'s but that stadium was full on the field and in the risers. And it actually got quiet when they sang that song. As quiet as could be expected and respected of a biker's crowd.
The crowd loved his "Ring of Fire" and some girls sitting next to me with cue cards held up a sign with "Johnny Cash 1932-2003". They even asked me before the show what else they could put on their signs for Marty (Marty Party, If There Ain't, There Oughta Be). How is it folks can tell a Marty fan? Is it the jacket, the shirt, the bag, the pins, the talk, the camera with zoom out to there, or what? I'll never understand. :)
Of course then it was time for "Hillbilly Rock" and this crowd was already on their feet and standing around the stage and dancing by now anyway. And they wouldn't let him go with just that and clapped and yelled for an encore. So they all came back out and whew! "Draggin the Line" is just the best! I had heard the song on the radio on an oldies station, just a week or so before and thought, haven't heard that in ages and I love that song! I saw someone mention in another review from Georgia that he did that song for the encore after I'd heard it on the radio. I was so glad to hear them do that in Chattanooga too. Jim Hill announced that he would autograph for everyone back in the hall of the stadium at his booth. Of course Tony had gone walking so I couldn't find him to tell him we were getting in line. (Why didn't I call his cell phone, like I'd done earlier?) In a Marty frame of mind I guess. The line was pretty long by the time we got up there. We were on the field and had to go back up to where we came in.
While waiting in line, I talked to a guy who came up from Alabama who was getting an autograph for his wife. She actually called him while he was waiting in line and she was excited about him getting the autograph for him. Jim came through the line selling the pictures of the whole group so he got one of those for her. I got one too since they were all signing autographs. I had some old Christmas LP's with Johnny Cash on them singing "Little Drummer Boy" (nobody sang it like Johnny) and a couple of others with Webb Pierce and lots of other veterans of country music, many gone too. I wanted to give them to Marty since he loves old memorabilia of country music. These were like new and given to me by a friend who knew I liked country music, but I wanted Marty to have them. I included a birthday card since it was coming up in a couple of weeks.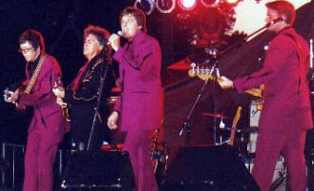 I saw Cindy Allred a few folks up and went up to say "Hi" along with a couple of other Marty fans I recognized. Then took my place back in line. Marty, Kenny, Brian, and Harry were in line behind a long table they had set up for them. I walked up and first of all handed Marty the old LP's and told him they were for him and he said "Christmas Albums" and I said " They're old and Johnny sings 'Little Drummer Boy' on them, along with a couple of others that are older albums." Kenny looked over at them too, and said "cool." I had my white Caddy T-shirt autographed and then he had a nice silver pen to autograph the picture since it was all dark suits. I hugged him and told him "Happy Birthday" in a couple of weeks and he said "thanks." I moved on and had Kenny, Brian and Harry sign the photo too. While we were in line, Jim Hill auctioned off a black tank that Marty had autographed and I wondered how he had autographed it. Well, the silver pen, of course, after I'd already left and could have had mine autographed too! It's that Marty Frame of Mind Moment again! Can't wait for the next one!!!
Now Montgomery Gentry had already come on stage by now. No need to find our seats. Everyone was standing in theirs. I only got glimpses between the three rows in front of me occasionally and no pictures at all. I just wasn't ready to stand in my chair and was so afraid I was a goner if the girl in front of me lost her balance since she was standing on two chairs, one foot in each. But I had an even better time watching the two girls with the cards whose mom's I believe were standing on the ground behind them handing them the cards they needed for each song. When Troy or Eddie looked their way or acknowledged their signs they got the biggest kick out of it and it was so much fun just watching them get into the show. We left just before their encore and Marty's booth was gone, as well as the entourage. Next time.......
Review and photos by Mary Runyan, Dayton, TN