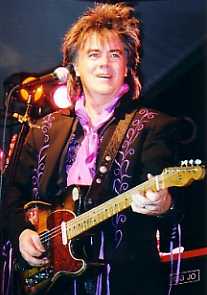 Marty Stuart and His Fabulous Superlatives performed two shows at the Casino Aztar on Friday, December 12th. For those who waited in the freezing temperatures outside to get in, they were treated to a killer set in the casino's auditorium. Jim Hill (whom I have affectionately dubbed "Merchandise Jim" among my friends), did a bang-up pre-show warmup with the audience to get them in a show mood. Chatting away, playing games, he weaved a slew of good jokes in with what are usually boring show announcements to keep the crowd's attention. He even pointed out a few fans in the crowd, publicly acknowledging them at the show, which I thought was a pretty creative touch.
Finally the show commenced. Always the showman who loves the stage, Marty used flashy, synchronized stage lights and his glitzy clothes as a backdrop to hop scotch from present to past, playing perennial favorites as well as cuts from his new CD, Country Music.
The band opened with "Back to the Country," then on to the campy "Too Much Month..." and "The Whiskey Aint Working Anymore," before slowing down to a holiday-appropriate "Even Santa Claus Gets the Blues." Then came "A Satisfied Mind," "Rock Island Line," and "Farmer's Blues," followed by a crowd favorite, "Tempted."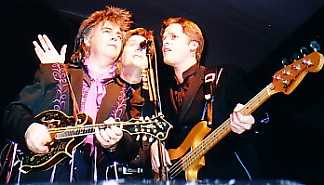 Kenny Vaughan then took the mike and offered up "Country Music's Got a Hold on Me," followed by Marty's version of the Johnny Cash hit, "Walls of a Prison" (which this writer could personally pass on). Brian Glenn then showcased his skill with "Everybody in Town Knows I'm Crazy Over You" (he sang "Everybody Wants to Be My Baby" in the second set). Marty then took over with a killer mandolin solo, followed by Harry Stinson leading the group through the beautiful and moving "Slow Train." The set concluded with Marty's trademark "Hillbilly Rock," followed by a rousing encore with the Tommy James 70's classic, "Draggin' the Line."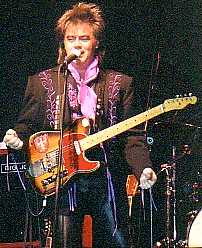 These shows were comfortable and thoroughly entertaining, and as always, Marty has a knack of interacting with the crowd like chatting with his buddies. He bantered easily with the audience between songs and continued the bond he is famous for with fans. After the sets, he and the band took the time to come out to sign autographs and talk to those who lined up to see him.
Always the king of cool, Marty has kept his musical integrity and fan loyalty through the years by not only putting on a show that rattles the windows with the best of them, but by giving his personal time to fans no matter where he performs, a feat rivaled by few of his tired contemporaries who don't bother to work as hard. And isn't that what being a true musician is all about?
Review by Diane Gilmore, Springfield, TN
Photos by Jim and Diane Gilmore