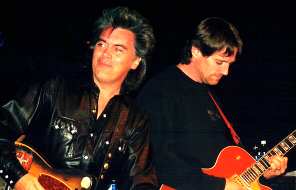 I can't describe how much I was looking forward to this show. I've had such a case of withdrawal, not being able to go to any of the few shows Marty has done this year on the Opry or with Earl Scruggs or the Sullivans. Seeing him on the Opry back in March and at Fan Fair helped, but it wasn't nearly enough!
Pat and I originally were the only ones going, but eventually Ellie and Pat's sister, Colleen, decided that they'd go, too. Ellie and I drove to Connecticut and spent Friday night at Pat's (a 2-1/2 hour drive from my house), and we all headed off at 4:30 Saturday morning. There was a strong wind blowing, which made driving a little scary at times, but the sun stayed out and otherwise it was a nice day for traveling. It felt good to be on the road again! We had a room for the night reserved in Washington, PA, and we arrived there around 1:30. We got checked in and headed for Burgettstown, which turned out to be a little over an hour away.
We pulled in and saw Margie Sullivan waiting, so I waved for her to follow us and headed for the back row where we all parked last year. Glenda and Clarence were already there, as were Skull and Patty, and Dale and Donna arrived not long after that. It was so good to see everyone, and we started our own reunion right then! While we were talking, a van pulled up and Marty, Gregg, Steve, and Brad got out. They had flown up that morning, and the Roadhouse people were driving them around. They all smiled and waved, but went on into the little building there. Well, we weren't going anywhere, and we kept talking, and eventually they came back out and came over to us. They all said hi to and hugged everyone, and it felt sooooo good! And they all looked so GOOOOOOD!!!!!!
After he said hi to everyone, Marty went to talk business with Skull and Patty (Skull has helped Mike with security and such at other shows around the PA area), but the guys stayed for a while. Brad was talking about the Rose Records WhiteWater website, and I asked him what the deal was with the two backstage passes per year. Not to worry, everyone, when Brad saw all that stuff he fired the guy! He said he'd have blown that rule big time, that his shows are going to be like family. Why am I not surprised at that? Unfortunately, the website is also gone, and there was a lot of information put on there.
Eventually they went inside (they had to set up and do sound check, since there was no crew with them), but what did we do? We kept on talking, of course! And by golly, after a while Marty came back out, and he came over again and talked for a while. He looked so relaxed and happy, obviously the year off the road has been good for him, though he said he's been busier this year than when he was touring and hasn't done anything he had planned to do. There's a lot more gray in his hair than there was, and it looks wonderful, as good as the rest of him. :)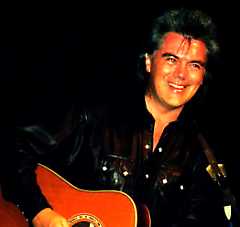 Not long after that Sandy Osborne and her mother (Morgantown, WV), Kathy and Angie (Atlantic City), and Kim, Lisa, and Shaina (OH) also arrived. Shaina was in the dark about why they were there as Kim and Lisa had wanted to surprise her, so we told her that Marty and the guys were inside that building, but I don't think she really believed it until later, when she actually saw them. It was late enough by now so the doors were open and we were cold standing around in the wind, so we decided to go inside. Everyone scattered to their tables, but kept gathering here and there to say hi and talk to more people we knew. Roxie and Barb (MD) were there, Jennifer Robinson, Terri and Ray, Sheila and Donna, Patty D...there were so many I knew, please forgive me if I've left someone out! While I was talking to Kim, Lisa, and Shaina, Steve came out on the stage to set up some of his equipment; Shaina wouldn't go over by herself, but we finally convinced her to go with me. I called to him, and as soon as he turned around and saw who was there he came right over, knelt down and gave her a hug, and told her she looked pretty. I think that was when she finally believed the guys were really there!
The opening band came on and I watched for a while. They were pretty good, but it's hard to watch anyone else when you're waiting for Marty. They announced that Marty had merchandise in the back, so I went to check it out (it was the new 8x10 that was at the fan club party), and who did I run into but Brenda. She, Jim, and Diane were in PA helping her daughter move, and had only just found out about the show. Through someone's generosity they were able to come, and she was so thrilled to be there. Margie Sullivan came and talked for a while, too, and we were there for quite a while. People had been asking if I knew if there would be a Meet & Greet, so I asked Skull (who was watching the pictures) and he said yes, after the show. The opening band was almost done by the time I went back to my seat, and then it was time to fix the stage for Marty and the R&R Cowboys!
Finally the stage went dark. More waiting, probably a few minutes but it seemed like forever. Steve, Brad, and Gregg came out, and the place went wild. Then Marty came out, and it went even wilder! I have all the songs written down, and I'll try to remember some of the things that were said and done. They went right into "Hillbilly Highway," which seemed appropriate to start their first "official" show this year, and then did "Hey Baby." Marty made some comments about "Where y'all been so long? We're glad to be back at the Pepsi-Cola Roadhouse, for our Fall Tour!," and then asked if we could still sing (some of us couldn't sing before!) and went into "The Whiskey Ain't Workin'." He talked about seeing Travis in Nashville, then did "Hard Times And Misery," saying it was written about his people in Mississippi.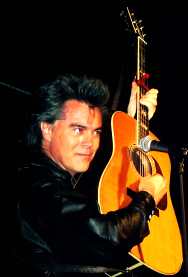 They did "Blue Train," and then Marty introduced the band. He said it was their fourth show this year, but they didn't rehearse because they felt like we were family and would understand if they blew it. He joked about Brad playing with nine fingers ("he got a hold of a snapper!"), saying he was carving a pumpkin and the knife got away from him, so he figured it was time to get back on the road before they killed themselves at home. Then they played "Tempted" (ending it with a very slow, bluesy beat), "Just To Satisfy You," "That's What Love's About" (which he started and then stopped and said "what's the words?"), and "Little Things." By now Marty was sweating, and he said that this was the closest he'd come to work lately. Then they did "Till I Can Gain Control Again," "Country Girls," and mentioned that there were fan club members there from all over, and he loved us all but we looked like a bunch of honky tonkers, and burst into "Honky Tonk Crowd." Then "Long Black Veil," "Now That's Country," and "Rocket Ship," with Steve going down onto his knees on the bass part in the middle. Then came "Hillbilly Rock," and we all know what that means. Marty said "I love you very much" and left the stage.
But we weren't having any of that, and clapped and shouted until they came back out. They did "Clyde" (which everyone calls "Steve Played Electric Bass," but you won't find that title anywhere if you're looking for the song), and then came a serious moment. Marty said he remembered standing by the bus the last time they were there, signing and signing autographs in the cold, but that didn't matter because they were there. Sometimes he wants to sneak a peek at his horoscope to see if they got it right, and so if he'd had a looking glass into the future a year ago he didn't know that he'd have taken what was coming. But sometimes God has different things in mind, and you have to trust him and know that He knows best. That tonight he missed Gary Hogue, that he missed a lot of things, but they'd always remember Gary. And in a moment of reflection he went to Mississippi and wrote this song...at which he played a wrong note and said no, I didn't write that. But he got the guitar right, and played "Far Away," which is a beautiful, beautiful song. Then, enough of that, they jumped into "Burn Me Down".......but had to stop so Marty could try to put on a pair of boxers someone had handed to him. He got them onto one leg, looked at them, kicked them off and said "I don't wear underwear, thank you anyhow!" Then they finished "Burn Me Down," he said "thank you very much, how about a hand for the Rock & Roll Cowboys," and it was over.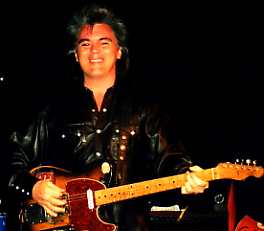 By the time I got over to the Meet & Greet line it was pretty long. No one was moving, so some of us started going to talk to the guys when they came back to the stage. I was asking Gregg about this show, and he said they had talked about maybe doing one a month (though there's nothing else planned now, that I know of), so maybe we won't have to wait until next summer to see them again. The line had started to move so I went back to my place, and eventually it was my turn. I gave Pat my camera, got my pictures signed (he signed the first one "Cookette #1" :)), and got a really good hug. Then I went in search of Steve, Gregg, and Brad. It took a while and some searching by Steve for Gregg, but eventually we talked to all three of them, got our pictures taken with them, got the story of Brad's finger (Briley packed her bags, saying "we're going to the hospital, aren't we?", while Landon was kind of scared by all the blood and kept saying "are you okay, Daddy?"), and got hugs from everyone. And then security was telling us we had to leave, and they herded us out the door.

We all gathered out back again, waving off the guys as they left (Marty blew us a kiss as he got into the van). Jennifer had a potential crisis, but we got together and made it possible for her to get home. There was some talk of going somewhere together, but we were all going different directions and couldn't think of anything that might still be open, anyway, so we ended up going our separate ways. It was just after midnight by the time we got back to our motel.

We were up and out early Sunday morning (the time change made it easier!), stopping for breakfast before we hit the road. The wind was worse than it had been going out and at times it was really scary, as the car wanted to blow off the road. That slacked off as we got into NY, and then it started to snow. It never got worse than flurries, though, with white on the ground but just wet on the road, and we made it home with no further trouble. Even Ellie, with the farthest to go, was back home by 10:00 p.m.

We had a wonderful, wonderful time. It was so good to see everyone I've come to know through Marty, most of whom I only see at the shows and who I've missed a lot. And I can't describe how good it was to see Marty, Steve, Gregg, and Brad, and how good they all looked. I truly can't tell you how happy I was to be there. And now, I'm geared up and ready to go again!!!

Review by Margie Brodmerkle, Oakham, MA
Photos by Ellie Viscione, West Roxbury, MA