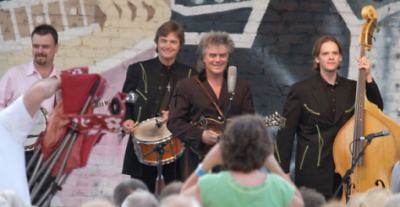 This was an outdoor event down the middle of town, in the street. Marty played two shows: the first was Bluegrass and the second was. as Marty says, "plugged in..."

Bluegrass show.... Marty was having way to much fun. He knew a lot of the people there from the Carter Fold and mentioned that Rita (Janette Carter's daughter) was there and that they had been laughing and visiting. One of Del McCoury's banjo players played with them for the set. Some of the songs were, "The Whiskey Ain't Workin' " -- Bluegrass style, Kenny Vaughan's "Country Music's Got A Hold On Me," several instrumentals, and a couple of train songs.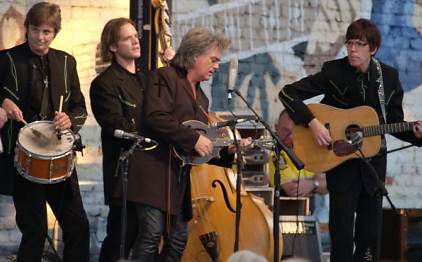 He invited Trey Hensley on stage to perform a couple of Carter Family songs. Then came the best part... Marty was telling the story of buying the house next to Johnny Cash and how much he had enjoyed being able to visit Johnny at any time -- then went on to say "guess who bought Johnny's house and moved into the Hillbilly Neighborhood ......." of course everybody is yelling "who??" And he said "a BEE GEE, Barry Gibb - there went my neighborhood!!"
Said he and Connie would show their southern hospitality when he moved in and invite him over for cheese and iced tea!! Then went on to say the best way he knew to make him welcome was with song and what better way then to sing a Bee Gee song bluegrass......The song is "Disco Grass." With Brian singing lead they performed "Staying Alive," Bluegrass style -- the high notes were wild!!! A very entertaining set with Marty leaving saying "come to the stage up the street and see the rest of the show plugged in"!!!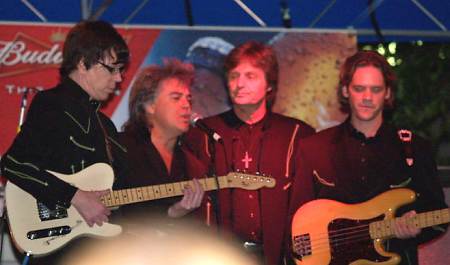 Second show was Hillbilly Rock!!! Sung a bunch of songs I had never heard before, possibly new ones! Did one bluesy song with Harry singing lead with Marty telling a made-up story about Handsome's women throwing him out of the "Trailer Park"!!! then Harry sings this amazing blues song!! Kenny sang his rock song showing off his guitar-playing abilities!!

There were some interesting "Dancers" dancing in front of the stage for several songs and Marty and Brian were cracking up. they performed "Burn Me Down," "The Whiskey Ain't Workin'," "This One's Gonna Hurt You," "Bottle of Wine", "Tempted," and a couple of Johnny Cash songs. They were singing a train song and one went by in the back with the whistle blowing -- Marty loved that!!

He said he had been wanting to play in the Birthplace of Country Music for a long time and he wasn't in any hurry to leave and knew a whole bunch of songs, then asked if we had any requests. Of course someone yelled "Rocky Top" and he said not just "NO," but "Hell NO!!!!" They performed a couple of new gospel songs with amazing harmonies......and, by the way, this is the first Marty show I have been to where he did not end the set with "Hillbilly Rock.".

Two wonderful shows with Marty and the Fabulous Superlatives really enjoying playing music........ on nice cool evening in Bristol, Tennessee - - the Birthplace of Country Music.

Review and photos by LaDonna Cable