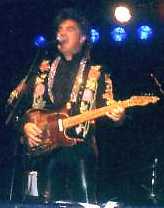 We came to the cabin we rented for that weekend late Thursday night after 9 hours of driving. We went to bed because we were very tired after all this driving and it was a lot of traffic as well.
Friday came and we drove down to the arena where the show was held. Nice weather. Got there early so we were able to find a table. That wasn't easy, but we found one at the end. After a while, we went out to the arena. Major Dundee was on stage. Nice music. Then, after an hour, Paul Overstreet came on. There were not so many who were looking at him, but there were some -- among them, me and Kurt. I haven't heard about him, but I sure liked his music.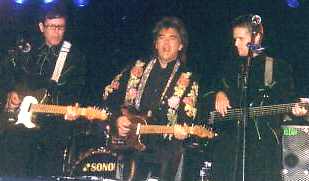 After a while, we meet this organizer and he told me that they were working for Marty and Connie (she was also in Breim). He said they may play in a church Saturday at noon, but they weren't sure they were making it. We decided that we would like to go too. At 1:00 a.m., the show was finished and we drove back to the cabin.
Saturday morning. The big day had arrived. We came to this church at 10:00 a.m., two hours before it started. Did we get a seat? Nooo way. I have never seen such an overcrowded church. So, we turned and went back to the cabin. Then it was time to go and Kurt wouldn't drive, so we ordered a bus who drove us down. And he would also get us at 1:30 a.m. because it was too far walking for us. Anyway, we came and I was looking for that organizer who said that he would tell me when Marty arrived (was I anxious or what? Yeah!). Finally, this organizer pointed at me and said that Marty and Connie had arrived and I got inside. I stood right behind them. If I could, I would have put my arms around them both (I didn't do it, darn. I should have done it).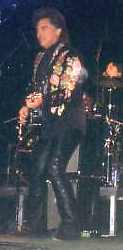 While Hillbilly Boogiemen were playing, I asked Connie for her autograph and when the music had stopped, I talked to Marty and got him to sign some pictures I had and then he ran inside. But that sweetheart of an organizer helped me again. He said that if it went fast (because they were running late on time) he could get me inside so I could have my picture taken with Marty. I ran like I had the devil behind me and there I was, standing beside Marty. "I can see that you are a member of the Martypals," he said. "How do you know?" I said. "Your sign on your vest tell me." (I had forgotten that.) Then I ran out because he should be on stage. I met the organizer afterwards and he said that he could help again after the show if I wanted to have some more pictures taken. "Yes, please," I said and ran so I could see the show.
Well, it didn't end here. I still am mad, but what could I have done? Nothing, I suppose. You see, I should have met Marty and Connie afterwards but Marty was late because he had some extra songs and I had that bus to catch. I still am sorry for that. But what a show he did. Wow, it was so great seeing him live. Connie also sang a song. It was great seeing them both. You were right. It went way to fast. This show was over before I knew it. But I'll live long on this. I sure hope he will be back soon. I will be waiting.
---
---
Review and photos by Kristin Holta, Stravanger, Norway