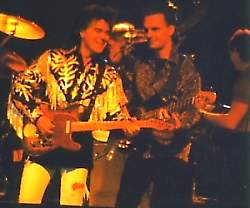 This was not a normal, straight-forward concert trip. Driving a long distance at this time of year in snow country is always risky, and mid-week before the show we started getting weather reports that there was a major storm heading for the northeast, with up to 8-10 inches of snow expected. My friend Ellie and I went back and forth for three days trying to decide if it would be safe to drive down and back. Finally at noon on Friday, when they changed the forecast to 3-6 inches starting mid-day Saturday and ending mid-day Sunday, we decided we could do it if we left late Friday and drove all night to get there, and hopefully by the time we got back home on Sunday, the roads would be clear. As it turned out, that's what happened, but there were a couple of days when I really didn't think we'd be going.
We got to Bluefield shortly after noon on Saturday, found the Armory where the show would be, and then went to find our hotel. We got checked in, ate at the Cracker Barrel, and then went back to the Armory. We talked to someone for a while and were planning to go look around town, but it started raining so we just parked the car and settled in to wait. Glenda and Clarence arrived not long after that, and we talked to them until the doors opened. We said hi to Jimmy and went to our seats, which were in the front row; by coincidence Glenda and Clarence were directly behind us!
There were two opening bands, who were okay but not who we came to see. It was even harder to sit through their shows because there was a garage door off to the side of the stage, and almost the whole time these two groups were on it was wide open. Everyone was freezing by the time someone went and closed it.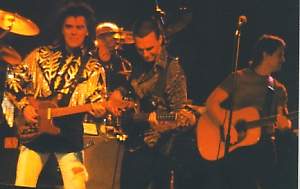 Then, the moment we were waiting for...Marty and the Rock And Roll Cowboys came out on stage! Ellie and I looked at Marty, then looked at each other, and almost had heart failure. We had been talking earlier about how much we had liked it when he wore the flashy jackets and faded jeans...and there he was, in a flashy shirt and jeans! He had on a long black shirt with white or silver appliques and long fringe all over the front and back yoke and sleeves, and faded jeans with a hole in the left leg. That shirt just sparkled and flashed every time he moved, it was gorgeous!
It was a night for the old songs, too. They started with "Western Girls," then did "Doin' My Time," "The Whiskey Ain't Workin'," "Blue Train," "Tempted," "Oh What A Silent Night," "Shake Your Hips," "Hobo's Prayer," "Burn Me Down," "Southern Accent," "Hey Baby," "Soldier's Joy," "Long Black Veil," "Now That's Country," and "Hillbilly Rock"; and for the encore they did "As Long As I Have Jesus (I Can Face Tomorrow)." Marty and the Cowboys were all smiling and laughing and just having a great time, and they had a really good crowd.
When Marty was introducing "Hobo's Prayer," he said "I wanted to be a hobo when I grew up." A girl shouted something, and he said "You did too, baby?" She shouted back "Uh-huh," and Marty said "Well, it's too bad, we could have hobo'd together. I could have been Mr. Hobo and you could have been Mama Hobo and we could have played train...choo, choo!" The whole place went crazy, and he laughed and said "Nah, nah, nah, nah"! Then he said his Mama told him he couldn't be a hobo, so he became a musician instead, which was the next best thing.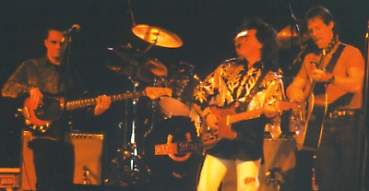 There was a surprise at this show, too...Marty said he had a southern treasure with him, his Daddy was there, and he made him come out to center stage to introduced him. Then he said he'd sing a song for his Daddy, and did "Southern Accent."
When he came back out for the encore, he thanked the Red Cross and then said he didn't want to bring anybody down, but right before they came out on stage for the show he heard on TV that George Jones had a car wreck that afternoon and was in critical condition, he had been flown to Vanderbilt Hospital with a collapsed lung and ruptured liver. He said he told us he believes in the Red Cross, and he also believes in the power of prayer, so to please keep George in our prayers because he knows "George is one of God's favorite knuckleheads"...and then he sang "As Long As I Have Jesus (I Can Face Tomorrow)." It was a very touching moment and there were a lot of us holding back tears, thinking about George and hoping he would be all right, and listening to that song.
The M&G line was very long, so we went and talked to Gary, Steve, and Gregg. Gary has had back surgery and is wearing a brace, he said he had to miss four shows, and has to wear the brace for about another three months. I asked Steve about the new album, and he said they played on the whole thing (YES!!). Ken was there, and even Randy had a few minutes to stop and talk. I spoke to Mike briefly, but as usual he was very busy. We also chatted with Cindy Allred from Alabama, who had driven up for the show; we know her from Fan Fair, she's really nice.
The buses drove out around midnight, as we were talking in the parking lot, and we waved goodbye. Then we went back to our hotel, got a few hours sleep, and headed for home again.
I have to say that it was well worth all the stress and worry we went through. The show was absolutely incredible, and I'm very, very glad we didn't miss it!
Review and photos by Margie Brodmerkle - Oakham, MA