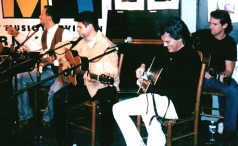 This is not a true concert review but I'd like to tell you about the evening at the Bluebird Cafe.

Warner-Chappell Music and CMT International hosted a Songwriter's Night at the Bluebird Cafe featuring four songwriters from Brazil as well as Michael Peterson and Marty Stuart. The Bluebird is a small club (as are most in Nashville). The songwriters sit in chairs along a wall and each takes his/her turn to sing a song. The set is acoustic.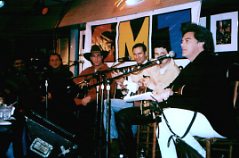 Due to a cancellation, Mario and I were able to secure a corner table (behind the songwriters). It felt like "family night" with Les Banks, Randy Childers, Mike Copelin, Bonnie Garner, Brad Davis, Gregg, Jodee and Rachel Stocki, Connie Smith and two of her daughters there. Celebs spotted were Phil Kaufman (road manager deluxe for The Rolling Stones, Emmylou Harris and, at one time, Marty), James Burton (Elvis' favorite guitar player) and Bela Fleck.
Marty and Michael both hobnobbed with guests prior to sitting down to business. The "Boys From Brazil" (Cesar Augusta, Reinaldo Barriga, Danimar, and Cesar Lemos) are top songwriters in Brazilian country music. Only one spoke English and would interpret as the others talked about the songs they were going to perform.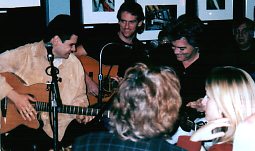 Marty introduced the songwriters and apologized to the Brazilians for mispronouncing their names. They had been at the recording studio during the day with Marty as Marty played his role of ambassador of our fair city.
Marty talked about how much he loved trains and used to hang around the railroad tracks when he was a kid and performed "Hobo's Prayer." We noticed the Brazilians intently watching Marty's fingers play the guitar.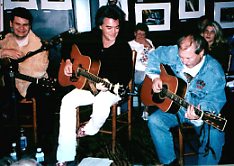 Even though we could not understand the songs the Brazilian songwriter's performed, they were great none the less. Marty said the people in Brazil are so festive that they "eat at 10 and dance until dawn. Sounds like Texas to me." James Burton was invited to join them and play guitar. I know James had some health problems a while back and it was good to see him looking so well.
Marty also performed "Red, Red Wine and Cheatin' Songs" with Brad Davis accompanying on the guitar and singing harmony!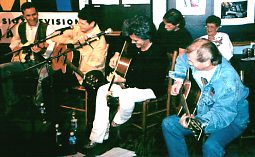 Seemed like all too soon, it was over. Marty posed for pictures, talked with and hugged friends, came over and said "hi" to me. I told him I was glad I saw him tonight since I wouldn't be seeing him Saturday in Owensboro (Jodee Stocki had just told me the Owensboro shows were canceled). He gathered up Connie, said "good night" to everyone and walked out the door. I was sure glad that Mario and I had decided to go to the Bluebird.
The advantage of living in Nashville is that we get to see Marty in a little different light. But getting to see Marty is always a joy.
Review by Sherry Mattioli
Photos by Mario Mattioli (and one by Jodee Stocki)