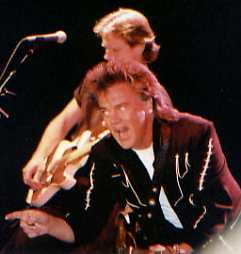 Left home as soon as cousin Serena Williams got there. You know she played at the U.S. Open that day. Mom and Serena told a bunch of stories of their youth. I'm not sure they were telling the truth. We got to Ft. Worth and ate at the Cracker Barrel. This is where I discovered that Serena is the biggest wussy in the world. Then we went to Billy Bob's Texas. My buddy James and I got wild. We shot pool (neither one of us know how to cook it), played slot machines for toys not money and we walked tall drinking our Diet Cokes.
Marty put on a great show. It was one of the best that I've ever seen him do. He sang a bunch of songs, said some funny stuff, introduced the Cowboys (It's not the same without Gary). Marty sang some more songs. Momma will tell you which ones. Then he left. I bet he comes back for encore. Guess what, he's back. Big surprise. He sang some more and this time he was gone.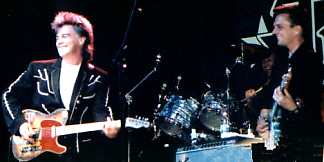 Momma and Serena were talking to Steve after the show. I think they were boring him to tears. He ran out the back door crying and yelling "LET ME OUTTA HERE!"
We went down a long hall to meet Marty. My friend, James, had never met Marty before, so he was a blubbering idiot. But he made it through all right. We went first, 'cause we didn't think there would be anything left of Marty when Momma and Serena got through with him.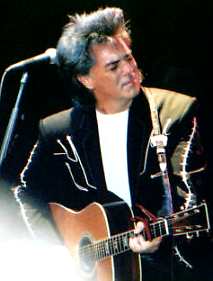 Well, we said good-bye to those people from Ringling. Our school plays against them in football. Not the Marty fans but the Ringling football team.
On the way home I bought a Lotto ticket. I didn't win, but I did feel good knowing I had bought a Lotto ticket and wasted a dollar. I can't wait to go to Vegas! I feel Lucky. By the way, if you ever go to Billy Bob's Texas, there is only one place to get a Diet Coke in the entire building. Every place else is selling something they call a dirty belly button. Serena, called it a fuzzy navel, but it smelled like a dirty belly button. I think I even saw some lint in it.
Well, till the next Marty concert, this is Jarred. And that was the Marty Party according to Jarred.
Review by Jarred Turner, Rush Springs, OK,
Photos by his mom, Beverly Kerr