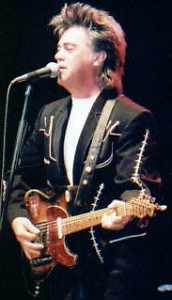 Serena, Jarred, James and myself (Beverly) set out for our destination, Billy Bob's Texas in Ft. Worth, TX, around 5:00 p.m. We had a "MARTY PARTY IN PROGRESS!" all the way. We played Marty's tapes, singing and reliving past Marty parties. Upon arrival in Ft. Worth, we had dinner at the Cracker Barrel. I'm sure people thought we were crazy. We were laughing and telling stories. We were getting ourselves pumped up for the concert. Like we needed it.
As soon as we entered Billy Bob's Texas (a.k.a. BBT, not to be confused with Billy Bob Thornton.) Serena Williams (not to be confused with the professional tennis player) said, "I wonder where Darlene is?" I said, "Right there." Darlene and her husband were standing there near the entrance. So, we walked around a while. We spoke with Carolyn Thumann and her husband Carl. They were wearing beautiful Manuel jackets.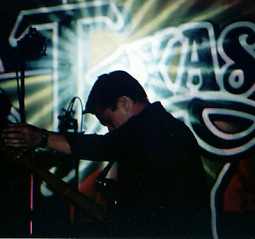 Well, it was finally time to go to our seats. They were great seats. Thank you Serena for getting up early to order the tickets the day they went on sale. We were sitting there in the dark, when a shadow lurked across the stage and picked up a blue bass guitar and began tuning it. It was everyone's favorite and coolest bassist, Steve Arnold. The stage was dark except for the illuminated BBT sign on the wall behind the stage. Steve was standing in front of it and made for a great silhouette. I am gonna use this photo in a drawing and give it to him. It really makes a really cool picture.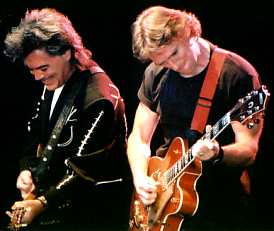 Then it was finally time and the band walks on stage, all in black. Marty was introduced and the place was alive with screams and applause and camera flashes (mostly mine). Marty was wearing black leather pants, white t-shirt and a black jacket with the white stitching. He looked fantastic. But when does he not look good? NEVER!!!
We had all made guesses as to what song he would open the show with. We all guessed wrong. He started with "Hillbilly Highway" and then went in to "Hey Baby." He then took a step toward the microphone and yelled "WELL" (I can't write it the way he says it) It's been a long time since these people have been to a Marty show. Cause as Marty told us, "That really sucked." So, he did it again. We got it right that time and he broke in to "The Whiskey Ain't Workin."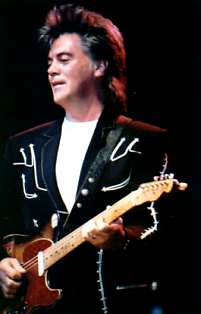 Next came one of my favorites, "Honky Tonk Crowd." When he was done, he said something about "sexy, sexy, fabulous" in a cute little voice. Then he did a song I have never heard him perform before. He sang a Waylon Jennings song " Just to Satisfy You." It was awesome. Add another one to the songs Marty needs-to-record list. He then introduced the band and he did mention Gary. He said there use to be a steel guitar player right there as he pointed where Gary was always positioned on stage. I wanted to cry.
The next song was "Tempted" -- another favorite. He was wired for this song. He danced around and dare I say there was some great hip movement. I'll leave it at that. Use your imagination. You just can't describe with words the way he moves. He then started talking about the ghost train and sang my daughter Laura's, favorite song, "Blue Train." He kept the show going. At one point, a man asked for a certain song to be sung. Marty told him to write it on a twenty and send it to the front. The man got up and walked straight to the stage on the tables and handed him an twenty. Marty took it and said he would do the song and then gave him his twenty back and said, "That is a money back guarantee." As the guy walked back to his seat on the table, Marty said, "and please, no table dances."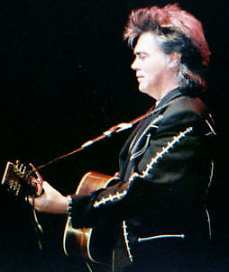 After "Little Things," he yelled out "Touch Me!" After that the crowd was so loud, he grabbed his microphone as if the screams were blowing him away. He said he wasn't gonna do it but he did. "Touch Me, Turn Me On and Burn Me Down" was sung with high energy. Then things slowed down a little with "That's What Love's About". Another one that I would like him to record was "Don't Take Your Guns to Town." He performs that song like no one else. He followed that with "Long Black Veil" and a song called "Are You Ready for the Country." And you know he can't leave without sing "Western Girls". Next came "Hillbilly Rock" which is always sad, because it means the show is over. He thanked us for coming and they left the stage. But it wasn't over. People were clapping, banging their bottles on the tables and begging for more. He and the guys came back out (NOTE: Serena did NOT catch the towel this time. He didn't throw it very far.) For his encore, he did "Now That's Country" and then told the story about how he told his momma he wanted to be a hobo. Then for his final song, he sang "Hobo's Prayer". This time it was over. It was a very high-energy show. I wish everyone could really see how truly talented this man is. He does it all.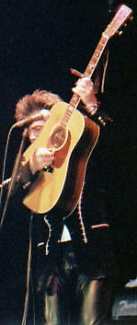 After they left the stage, it was time for us to go stage left. As we were waiting for them to come get us for the meet and greet, Brad and Steve came out and were talking to people. Well, Brad was talking to people, Steve was talking to us. He signed the photo I took of him and Laura at the fan club party. We talked to him till it was time for us to go meet Marty. They said "no photos," but that was all right. I was having a big fuzzy hair day because of the humidity. I told him it was our 10th anniversary. I said, "I have been a fan club member for 10 years." He said, "It is. Well happy Anniversary" and give me a big hug. He also thanked me for coming to his shows. He signed my photos and give me another big hug. He gives the bestest hugs. I had to leave him standing there. I hated that. Now, it was over.

We said our good-byes and headed back home, down that "Hillbilly Highway"...................

"MARTY PARTY IN PROGRESS!"

Review and Photos by Beverly Kerr, Rush Springs, OK