Kenny Vaughan - Lead and acoustic guitar
"When I work for anybody, I always try to give them 100 percent of my support. I try to fit what I do on my instruments into their music. A lot of guys become too involved in what they're doing on the guitar and not involved enough into what they're doing in terms of the ensemble. I always try to be an ensemble player."
Click here for a nice interview with Kenny.
Harry Stinson - Drums and background vocals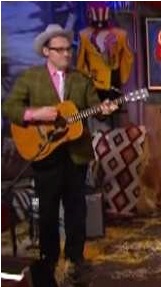 Chris Scruggs - Electric, acoustic, steel and bass guitars, and background vocals

Previous band members include:

Paul Martin - Bass and background vocals - 2002 - 2015

The Rock & Roll Cowboys - 1995 - 2002:
Brad Davis - guitar
Steve Arnold - bass
Gregg Stocki - drums
Gary Hogue - steel guitar
The Hot Hillbilly Band - 1991 - 1994:
Brad Davis - guitar
Larry Marrs - bass
John (Junior) Sturdivant, Jr. - drums
Danny Weaver - steel guitar
Dale Morris, Jr. - fiddle
Keith Sewell - guitar (1994)
Jack White - drums (1994)
Alan Accardi - guitar (1994)
Band members - 1989-1990
Ray Flacke - guitar
Larry Marrs - bass
Dave Durocher - drums
Band members: 1986-1987
Flip Anderson - keyboards
Jody Maphis - drums
Leon Watson - bass
Barry Chance - guitar
Paco Shipp - harmonica