At time for the meet and greet, we went and got in line. It was pretty orderly, the usual Fan Club stuff, mostly nice people. Gary came off the bus and was walking around and I waved and he waved back. I really like Gary, he's so sweet. Then Marty got off the bus. Leather pants, black boots (sharp toes, I still laugh at what Mike Perry said!) and a cream-colored shirt with the typical Marty embroidery on it that he later wore again for the first show at Nashville, IN. The fabric was really soft, not cotton, not stiff....I'd like to have one because it was nice looking and looked comfy too! And as good as he looks in black, it was nice to see him in something else.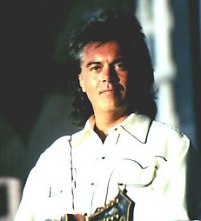 They started the meet and greet line and Mike announced autographs, hugs, kisses, talking OK, cameras no...the usual. Security said one item only for autographs which seems to be the norm at the meet and greets these days, although Marty did a couple for me at Myrtle Beach since I had them in my hand, he just took them and signed them. I'm never gonna get caught up with stuff I want signed if they keep limiting him to one, but I guess there are more and more people coming to the meet and greets these days (and hopefully will continue to be).

When it was my turn (we were mid-line), Marty said, "Hey, how ya doing?" and had a big smile. It was like he might have actually recognized me...maybe he's starting to know my face after all, which is cool. I told him I'd had a great time at the Fan Club Party and seeing him down in Nashville and that I'd see him in a couple of weeks in Indiana. He said, "great." I had him sign my Opry souvenir program that I got at Jennifer's store. While we were talking, I put my hand on his arm and told him I was glad to see he was feeling better (he'd had some throat trouble and was tired at Fan Fair and canceled his appearance on the Superstar Spectacular, remember?...although [ his sister] Jennifer told me a couple of days later that he was feeling much better). Then he handed me back my Opry program and he gave me a hug!!! I could have died. I was surprised. He's never done that before without me asking for a hug or giving him one first, except when he went around hugging people goodbye in Toledo. Oh well, it doesn't take much to make me happy, just a hug once in a while.

I thought at this show he was really looking tremendously happy and peaceful, not at all like last year when he looked a little tired at Toledo. Of course, we now know he was getting married just a few days later, so the little dickens was probably so excited.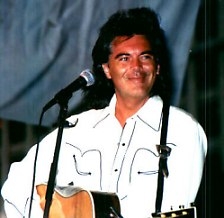 The crowed was "really" ready for the show to start. They do appreciate Marty up here in this neck of the woods, I do believe! It was the most incredible concert I've ever seen him do. An hour and fifty minutes. That's right, 1:50!!!. And he was having a great time. He was really loose, playing with the crowd. I can't remember what the comment was in response to, but at one point he said, "....but we don't care about that shit." The crowd laughed it's collective head off and Judy and Margie and I just stared at each other and burst out laughing. He was ragging on LeAnn Rimes too. I can't believe it. Typical Marty. I swear he's even better than he's ever been before.
And, he's really showcasing the Cowboys too. He did a number with Gary on steel and Marty on acoustic guitar--nobody else playing, and it about had me in tears. I almost forgot to take pictures. It was so beautiful. He also did a bluegrass number with Brad and he did numbers that featured Steve heavily on guitar and a big drum solo for Gregg that the crowd just went wild on. And he's doing a very wide variety of music in his show now--not just the newer stuff. Instrumentals, some new stuff, some of the old stuff...he did "Oh, What A Silent Night." None of us had ever heard him do that in concert before.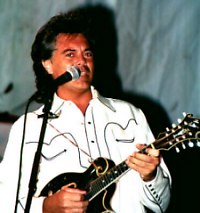 He did "Clyde" and "Long Black Veil." He did "Me, Hank & Jumpin' Jack Flash" and "High On A Mountain Top." He did "Okie From Muskogee" in the encore, probably because it was the 4th of July weekend and really hammed it up. He was really, really, really into the music!!! An hour and a half of the show and a 20-minute encore. It was incredible. I was exhausted at the end and he looked like he could've just played all night.